Eckrich promoted to Crestwood city administrator
Nine years of city experience to make for smooth transition, he says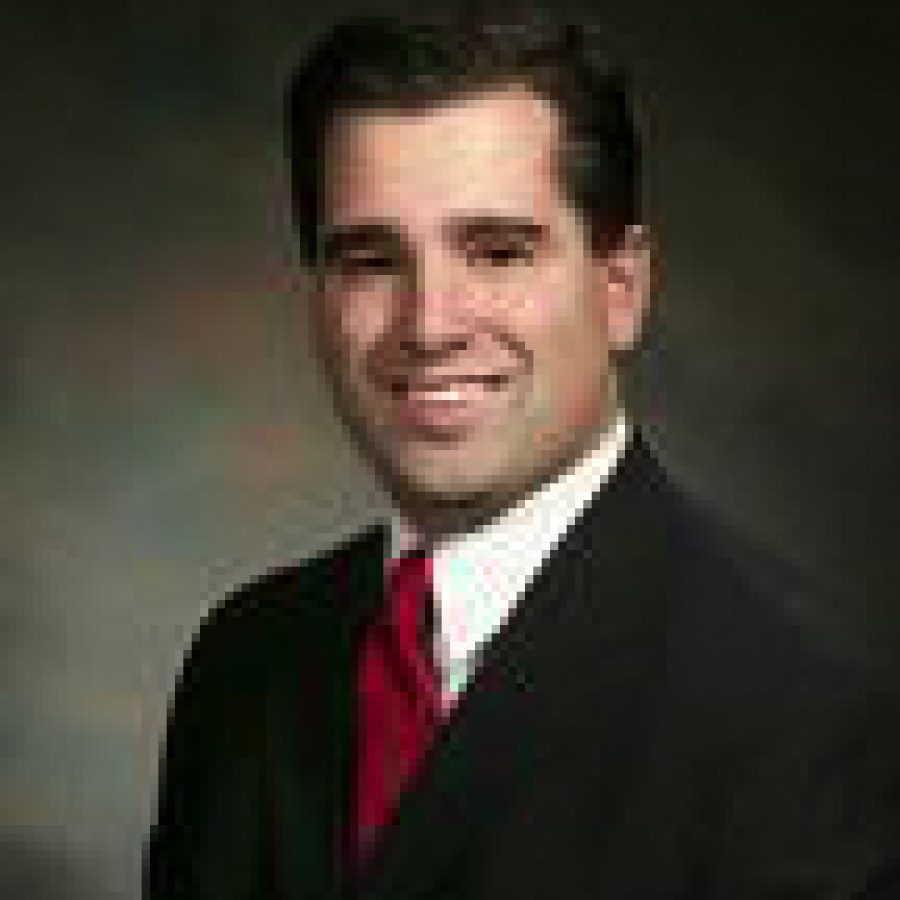 Having worked for the city of Crestwood for the past nine years, Jim Eckrich is confident that he and the city will make a smooth transition into his new role as city administrator.
"They know me as a person," Eckrich said. "They know that I'm not going to come in and embarrass the city. I think that probably helped me out as well. Whenever you have somebody new, it's an unknown. With me, they knew what they were getting. And thankfully, they were comfortable with that."
The Board of Aldermen voted 7-0 during a July 8 closed session to approve Eckrich's promotion from public-services director to city administrator.
City officials also will work to fill the position of public-services director that Eckrich has vacated.
Mayor Roy Robinson recommended Eckrich as his choice out of more than 30 candidates who applied for the position since March.
"He has probably the most knowledge of any employee we have as far as knowing where we were and where we need to go," Robinson said. "I think it's a win-win for the citizens, the board and me."
Eckrich, 34, began his new position as city administrator on Monday and will be paid an annual salary of $92,000.
Fire Chief Karl Kestler had served as interim city administrator since March 28, when former City Administrator Frank Myers resigned to accept a position as city administrator of neighboring Glendale.
When Myers announced in March that he was leaving the city after being hired two years earlier, Eckrich said he pondered applying for the post. He was convinced when several co-workers asked him to do so.
"When Frank left, I considered it," Eckrich said. "Quite honestly, I had quite a few employees come talk to me and see whether I was going to put in for it or not. And I thought long and hard about it and what was best for me and what was best for the city. And ultimately, it was a pretty easy decision. I've always tried to better myself and work as hard as I can.
"And I felt like given what's going on in the city, having somebody with some history who knows the city, knows the people who work here and live here, I just felt it was the best thing for everybody in the long run for me to throw my hat in the ring."
As city administrator, Eckrich emphasized last week that his top priority is simple yet crucial — accuracy.
"My first order of business is going to be to make sure that every piece of information that comes out of my office is as accurate as it can possibly be," Eckrich said. "I want to make sure that we're going over everything in as much detail as possible to make sure that the information being provided to the mayor and the board, as well as the public, is accurate."
Secondly, Eckrich said that he is concerned with the planned redevelopment of the Crestwood Court mall property, which he believes is "the lifeblood of our city."
More than half of the mall's available retail shops are vacant, and the city has struggled to gain sales-tax revenue from Crestwood Court. As previously reported, the site is expected to be redesigned as a "town center." While the mall today is roughly 1 million square feet, the new owners have indicated that the new redevelopment would be 500,000 to 1 million square feet.
With much work to be done with the mall redevelopment as well as various other projects within the city, Robinson is confident that Eckrich can handle those responsibilities and will "leave it up to him."
"I expect him to keep the city running as he knows it should be," he said. "I think his old management style will probably dictate some of the things that we'll be doing. I'll leave it up to him. He'll keep us informed, and that's the important thing."
With his experience managing city departments as well as forming annual budgets, Eckrich believes he can lead the city's administration with that same efficiency.
"I've worked with my budget since I've been the public-works director starting in 2003," he said. "And I've consistently made every effort I can to cut costs and come in under budget. And I think that record made them feel somewhat comfortable."
Eckrich was hired by Crestwood in March 1999 as a civil engineer and was promoted to public-works director in September 2003. When the Parks and Recreation Department and Public Works Department later merged, Eckrich was promoted to the newly created position of public-services director in November 2005.
Before coming to Crestwood, Eckrich was employed with St. Louis County Water from June 1996 to February 1999.
He received a bachelor of science degree in civil engineering from the University of Missouri-Rolla.
The fact that Eckrich already has dealt with the merging of two departments in 2005 and that he has earned the respect of his co-workers convinced Robinson that he is the right man to lead the city.
"He's a known product," he said. "He knows the city and has a good relationship with everybody in the city. Although that's not the ultimate thing, it's good to have someone who everyone respects.
"… Everything he does I'm impressed with. He's the man that we called on to take over two departments (in 2005) and he did an outstanding job. He really went way beyond our greatest expectations. So the man is a proven performer."
And while his professional background primarily is in engineering and public services, Eckrich wants to assure residents that he can adeptly manage the city's finances, which will be a topic of great consideration Aug. 5 when voters will be asked to approve a six-year, 35-cent tax-rate increase on real and personal property.
"I know the public is very interested in the city's finances," Eckrich said. "And obviously, my background is from an engineering and public-works and public-services background. But I have extensive experience with the city's budget. I've consistently strived to perform well regarding the budget. And that will continue to be a focus of mine as I move forward in the role of city administrator.
"I just look really forward to working with the citizens, the mayor and the board and moving the city forward."