Dooley prevails over Corrigan in race for county executive
North, central county support gives Dooley four more years.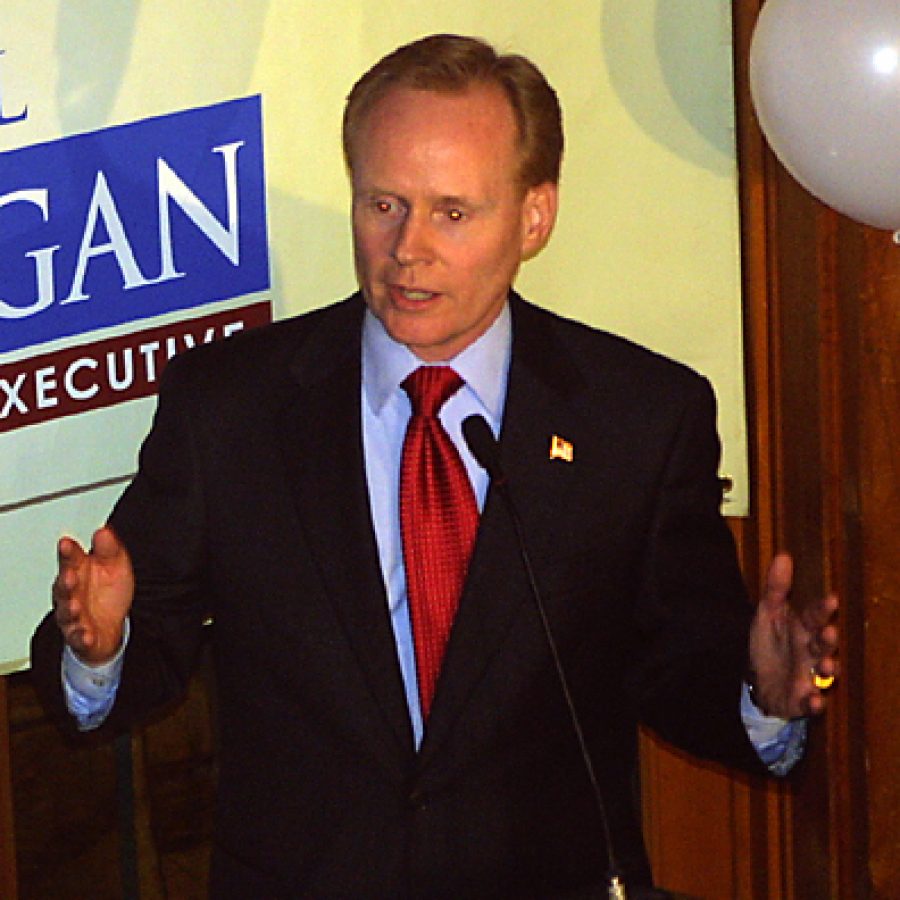 St. Louis County voters in last week's election again put their confidence in Charlie Dooley.
The Democratic incumbent county executive captured 51 percent of the votes Nov. 2 to win a second four-year term, defeating Republican challenger Bill Corrigan.
Dooley received 190,639 votes — 51 percent — and Corrigan received 174,757 votes — 46.8 percent, according to unofficial election results. Libertarian candidate Theo "Ted" Brown Sr. received 8,108 votes — 2.2 percent.
"I said from the very beginning: This race is about what's best for St. Louis County," Dooley told supporters election night. He added that although people "talked about a wave" of Republican victories, "if you've got a great program, you're honest with people and do the very best that you can, they will reward you — they will vote for you. And I appreciate that."
Initially, absentee, south county and west county ballots put Dooley roughly 10 points behind Corrigan. The gap narrowed as central county precincts were counted.
By the time election officials finished tallying north county ballots, Dooley had pulled ahead.
The disposition of support wasn't lost on the county executive.
"I want to thank the voters of St. Louis County … and specifically north county," Dooley said. "Usually when you get the absentee ballots, it's an indicator of what the night's going to be. And when it came back that I was down 10 percentage points, it just blew me away. I said: 'That can't be right, can't be right.' And I was right — it wasn't right."
Township reports released late last week show Dooley's strongest support, indeed, came from north and central county. He won all 10 north county townships, receiving nearly 71 percent of the vote. Dooley won all but two central townships — Bonhomme and Clayton — capturing roughly 57 percent of the vote across all six.
But Corrigan trounced the county executive in south and west county, winning all 12 townships.
He received nearly 59 percent of the vote across the five south county townships and roughly 64 percent of the vote across the seven west county townships.
Corrigan's strongest support in south county came from Oakville Township, where he captured 65 percent of the vote.
Dooley, meanwhile, fared best in Lemay, where he received roughly 44 percent of the vote.
Dooley, 62, was elected mayor of Northwoods in 1983 after serving five years as an alderman. He was elected in 1994 as the 1st District's county councilman and served in that post until the County Council voted unanimously to appoint him county executive after the October 2003 death of County Executive George R. "Buzz" Westfall, who'd served in that post since 1991.
Dooley was elected to serve the remaining two years of Westfall's term in November 2004 and was elected to a full four-year term as county executive in November 2006.
In the 2004 special election, Dooley defeated former County Executive Gene McNary with nearly 53 percent of the vote. In the 2006 contest, the county executive easily dispatched with Republican challenger Joe Passanise, capturing 67 percent of the vote.
"I've been an elected official over 30 years," Dooley said last week, but added, "This is the most gratifying one of all."
Corrigan, 51, ran an aggressive 15-month campaign promising county residents better leadership. A year or so after announcing his candidacy, the Corrigan campaign had amassed $1 million in contributions — more than McNary and Passanise raised, combined.
The lawyer from Ladue frequently portrayed his opponent as a corrupt elected official who in seven years had dragged down the county economically.
But Corrigan in his concession speech last week wished Dooley well.
"He's served the people of this county for seven years. The people have asked him to serve for four more years," Corrigan said. "He's been a longtime public servant in the community."
Corrigan touted a trio of plans he'd proposed throughout the campaign that he contended would bring the county economic prosperity and its government accountability and transparency.
"This campaign was about our economic revitalization plan, our tax plan, our ethics plan," he said. "We had ideas. And those ideas aren't going to die. They're out there."
He added, "We had a dream to lead this county. And we offered the county our leadership and vision … I can tell you that we did our best."
Looking at results in other county races, Democrat Pat Dolan of Richmond Heights defeated Republican Randy Jotte of Webster Groves to win the open 5th District County Council seat. Dolan captured 30,277 votes — 53 percent — while Jotte received 26,818 votes — 46.9 percent.
The County Council, as a result, will retain its 5-2 Democratic majority.
Dolan will succeed Council Vice Chair Barbara Fraser, D-University City, who last week lost her bid for the District 24 state Senate seat to Republican John Lamping.
Third District Councilwoman Colleen Wasinger, R-Town and Country, won a second four-year term last week, defeating Democrat Robert "Bob" Nelson of Kirkwood. Wasinger received 38,803 votes — 63.3 percent — while Nelson received 22,449 votes — 36.6 percent.
First District Councilwoman Hazel Erby, D-University City, and 7th District Councilman Greg Quinn, R-Ballwin, also were re-elected Tuesday. Both were unopposed.
County Prosecuting Attorney Robert McCulloch was elected to a sixth term Tuesday. He became prosecuting attorney in 1991 and has been unopposed for re-election since 1998.