Dimza recognized as Outstanding Graduate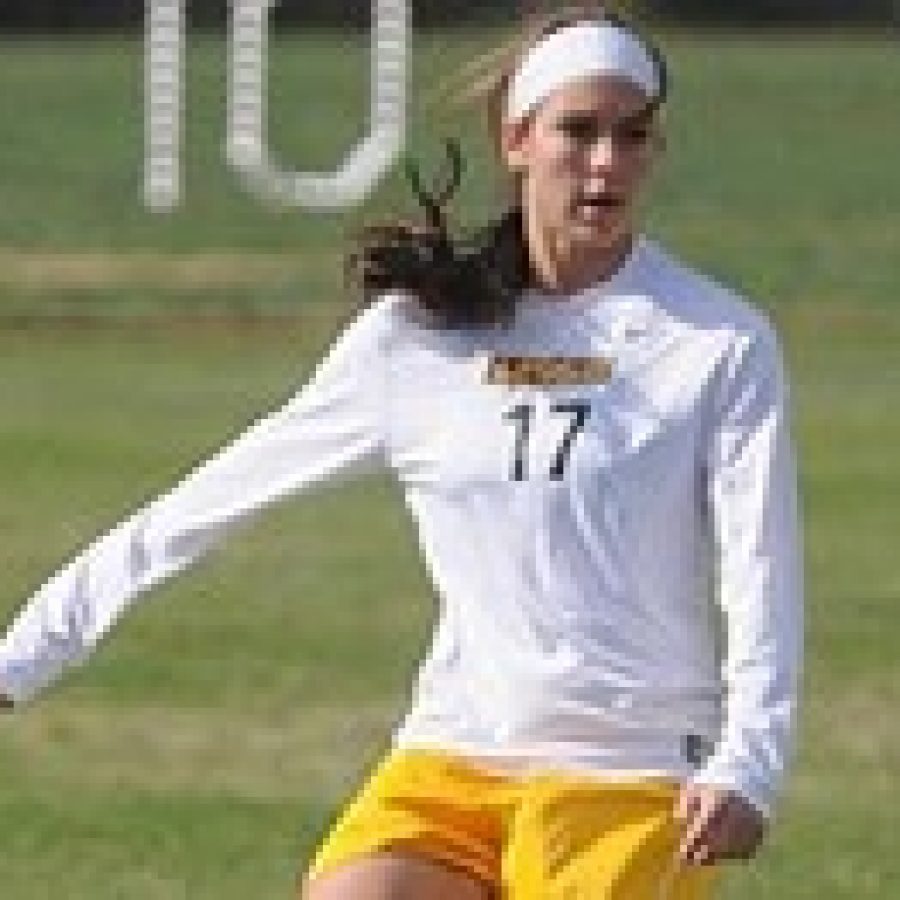 Missouri Southern senior Michelle Dimza has been named the Missouri Southern State University Outstanding Graduate for the spring 2012 graduating class.
Dimza received a bachelor's degree in biology/premed last month, graduating with a perfect 4.0 grade-point average.
A graduate of Notre Dame High School, she is the daughter of Mike and Mary Dim-za of Oakville.
Lee Elliff Pound, director of alumni affairs at Missouri Southern, stated in a news release the Outstanding Graduate is selected on the basis of superior involvement and leadership on campus and community, high academic achievements and respect of fellow students and faculty.
Dimza has been on the dean's list all eight semesters at MSSU. She has served as a biology tutor for the past three years, providing individualized learning for students in courses such as general and medical microbiology, anatomy and physiology, general biology, principles of biology, computer literacy courses and EMT certification courses.
Dimza has served as a team captain on the Missouri Southern women's soccer team for the past three seasons. She has been a four-year letter winner, as well as a four-year starter. She is a three-time All-MIAA selection and won the 2010 MSSU Leadership Award. She was also an MIAA Presidential Scholar, a three-time member of the MIAA Academic Honor Roll, as well as a three-time MIAA Scholar-Athlete.
This past year, Dizma served as a research intern at the University of Minnesota Life Science Undergraduate Research Program. In that capacity, she performed a compositional analysis of heat resistant Salmonella using surface enhanced raman spectroscopy.
She also presented an independent research project at the University of Minnesota Poster Symposium and participated in weekly career development luncheons, bioethical seminars and Women in Science panel discussions.
Dimza has been a volunteer with the Special Olympics of Southwest Missouri for the past four years. She has helped coordinate track and field events for the organization, as well as referee basketball games and participate in bingo and dance events.
In May 2011, after the Joplin tornado, she served as a volunteer in the recovery effort. She and her teammates pitched in to clear debris in the area that was hit.
She also has worked at the YMCA Big Sister event where she participated in a Christmas gift exchange and helped set up activity stations.
Dimza says although sports led her to MSSU, it was not the deciding factor in her decision to stay.
"Soccer is what originally brought me to Southern," she stated in the release. "How-ever, my decision to commit to MSSU was based on the small class sizes and the hospitality of the people I met while visiting."
"I am very happy with the four years I spent at Missouri Southern," she added. "The experiences I have had as an athlete, student, and member of this community were not only memorable, but also shaped my character into the person I am today. I think the faculty and staff do a great job of making success very attainable, rather than creating obstacles for students."
Dimza says she has been impressed with the "remarkable patience and interest" biology teachers have shown to student-athletes.
She now will play soccer for a Women's Premiere Soccer League team in Seattle, Wash., while studying for the Medical College Admission Test.
"Next fall, I am excited to start my life post-soccer," she stated. "I will dedicate a new wealth of free time to working in a hospital in St. Louis and volunteering as much as I can."
Her career goal is to become a physician in an area in which she can incorporate medical research.