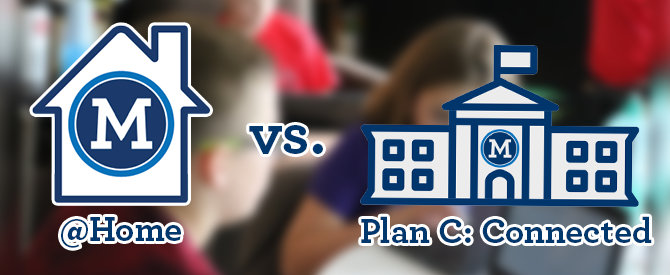 The deadline to enroll in the Mehlville School District's virtual school, Mehlville@Home, is Monday, Aug. 10.
Students who choose the all-virtual school — which will be taught separately than the all-virtual classes that the entire district will start with that could return to classrooms if COVID-19 cases fall in South County — will have to commit to a full semester, ending Jan. 14.
Parents who choose the default virtual/on-campus instruction through Plan C: Connected do not need to take action, the district said. Parents who choose Mehlville@Home must register by Monday, Aug. 10, at 10 a.m. Register now. 
The district has added honors courses to Mehlville@Home to begin the 2020-2021 school year. The following courses have been added: 
Middle School
Math 6 Advanced
Math 7 Advanced
High School
AP English Literature and Composition
Pre-Algebra
AP Statistics
AP Physics
AP U.S. Government and Politics
AP Psychology
Fine Arts Appreciation Music
Fine Arts Appreciation Art
French III
French IV
Spanish III
Web Design I
Web Design II
Course descriptions can be found on the Mehlville@Home section of Mehlville's website. View now.
The Mehlville Board of Education voted Wednesday night that all Mehlville schools will start virtually with Plan C: Connected. This means that all students, even those who choose on-campus instruction, will be learning virtually for the start of the school year. There are a few key differences between Plan C and Mehlville@Home that are important to understand. 
If you previously enrolled your child in Mehlville@Home and would like to remove your child and return to the on-campus instruction plan, complete this form. 
The district released the following chart to show the differences between Mehlville@Home and the Connected on-campus/blended/virtual program that will move back and forth between home and school this year.
What is the difference between Mehlville@Home and Plan C: Connected?
Mehlville@Home
 On-Campus Instruction in Plan C
Students who enroll in Mehlville@Home are committed to an entire semester of virtual instruction. Students may switch to on-campus instruction at semester break only. After the semester begins, registration will only be accepted into Mehlville@Home if space is available. 
On-campus instruction will be virtual (following Plan C) for an unknown amount of time. As soon as it's deemed safe by Superintendent Chris Gaines, on-campus instruction could pivot to Plan B (blended learning with staggered attendance) or Plan A (at school).
Mehlville@Home currently offers a limited number of middle and high school courses.
All courses are available for on-campus instruction.
Students are in virtual classrooms with peers from other Mehlville School District schools
Students are in virtual classrooms with peers from their own school.
Most courses will be taught by a Mehlville School District certified teacher. Some courses, especially at the secondary level, will be taught by educational partners like Launch and Edgenuity.
All courses are taught by Mehlville School District certified teachers.