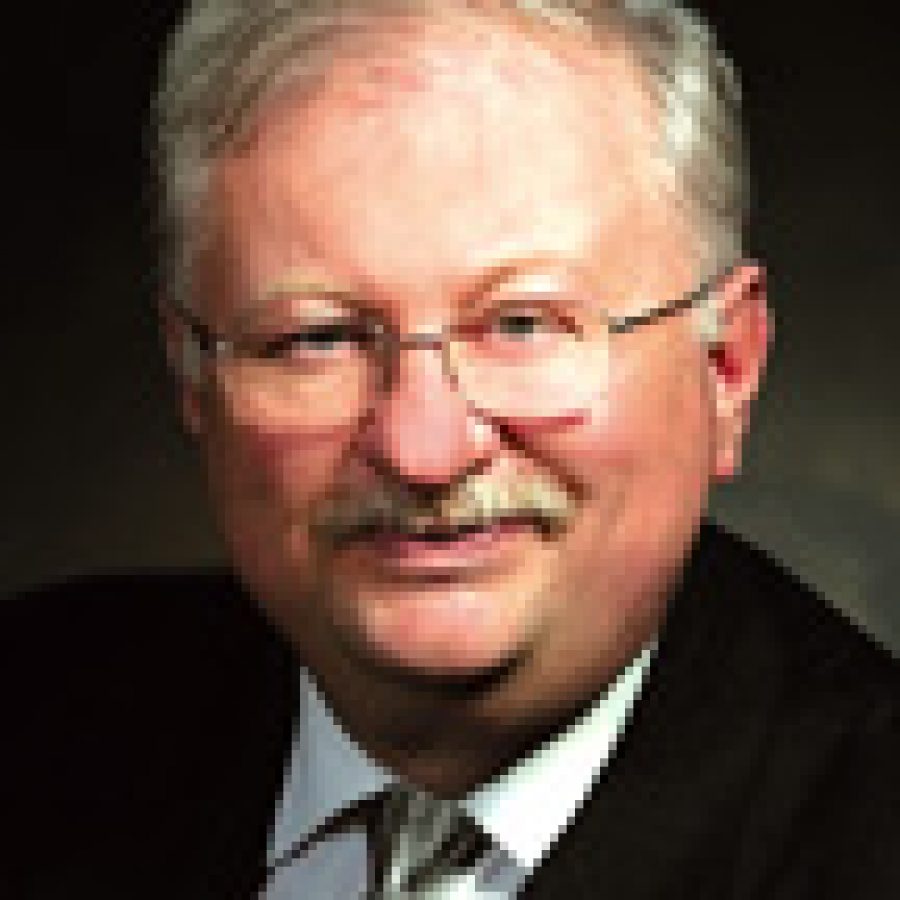 Despite recent projections that Crestwood will lose an estimated $3.7 million in its three major funds by the end of 2011, City Administrator Frank Myers said last week that the city's cash situation actually is getting stronger.
Myers said the city is exceeding its current goals for this year of having revenues outperform budget by 1 percent and spending 1 percent less than budgeted expenditures.
Because of his optimism that this trend will continue this year and his belief that the city can also finish 2008 in a positive cash position, Myers said a city that last year had $2 million in debt and a $1.5 million line of credit is now only getting stronger.
"The city's financial health has gone from a crisis to stable," Myers said. "And our financial position is getting stronger by the day because we've exercised the discipline of having our revenues outperform budgeted revenues and having our expenditures come in under budget. That discipline has to continue …"
Myers' optimism on July 24 was a change of heart from his tone at a June 26 work session, when he warned aldermen that the city could be headed for another financial "storm."
"Despite the passage of Prop(osition) S, despite some pretty significant cutting by this community and by this staff and by the board over the last several years in downsizing the workforce and despite a great 2006 audit report that showed significant financial progress, what this shows is we're heading into another storm," Myers said June 26.
That was based on former Assistant City Administrator Justina Tate's projections that expenditures will exceed revenues in the city's general fund, capital-improvements fund and park and stormwater fund.
Under Tate's best-case scenario of moderate revenue growth, the city is projected to end 2007 with a combined loss of $53,846 in its three major funds. While the general fund is estimated to end the year with $165,364 in revenue over expenditures and the park and stormwater fund is slated for a $118 gain, the capital-improvements fund is estimated to lose $219,328 in expenditures over revenues.
In those three major funds, Tate's projections show that even assuming moderate revenue growth in all three funds combined, the city will lose $53,846 in 2007, $615,772 in 2008, $705,434 in 2009, $839,635 in 2010 and $1,512,976 in 2011.
Based on those figures, the city's expenditures-over-revenues decline over time in all three major funds combined would be $53,846 in 2007, $669,618 in 2008, $1,375,052 in 2009, $2,214,687 in 2010 and $3,739,663 in 2011.
Because of Tate's estimates, Mayor Roy Robinson, who refers to those projections as "guesses," nevertheless instructed the administration and the city's Ways and Means Committee to begin work soon on the city's 2008 budget. Aldermen also had previously asked the administration to start devising strategies to deal with any potential financial troubles.
Reading from a statement at the Board of Aldermen's July 24 meeting, Robinson said: "Because of recent increase in our county's real-property assessments and the departure of our assistant city administrator as well as time constraints in developing the 2008 city budget, I'm asking the city administrator and his staff to work with the Ways and Means Committee and department heads to press forward with the 2008 city budget while finding ways to improve our future five-year financial estimates. It would seem that with the recent boost in our home sales, home values and the confusion over its impact, there is more than enough to do in building our plans for 2008 without further clouding the issue with guesses. We are all taxpayers. Because I recommend changes or take a creative position on the future needs, it must be very clearly understandable where elected officials agree the need is real and it will pass the smell test of our taxpaying residents."
Myers pointed out that despite these projections, the city's cash position has grown stronger. He said that cash balances from 2005 to 2006 grew from a deficit of $311,305 to $1,359,054 in the general fund, $3,675 to $774,277 in the capital-improvements fund and $19,369 to $474,521 in the park and stormwater fund.
To improve the city's cash position, Myers said the city previously reduced its workforce by 23 percent and most employees did not receive a raise for more than three years. Additionally, the city has made major cuts in street maintenance and parks and recreation and also deferred equipment replacement and facility maintenance.
Myers added that because 52 percent of the city's budget directly is tied to sales-tax revenue and sales-tax revenue has declined from 2 percent to 6 percent over the past five years, stabilizing the city's sales tax is a major issue for the future. The city's largest sales-tax source, the Westfield Shoppingtown Crestwood, has experienced annual sales-tax revenue declines of 13 percent each year for the past several years.
"Naturally, we hope that that will stabilize and maybe even reverse itself," Myers said. "But the trend tells us those numbers are going down and it's going to affect the financial strength of the community over time."
Myers also pointed out the need to retain employees, who did receive up to a 2-percent raise in the past year, deal with rising health-care costs and continue to pay $1.1 million per year out of the park and stormwater fund to the city's aquatic center until 2012.
Because of that strain on the park and stormwater fund, Myers said the city would likely have to transfer more to that fund in 2008 than the $130,000 transfer from the general fund approved in 2007.
As for the city's overall financial picture, Robinson said while the city will study Tate's projections, the city's finances are an ongoing matter that will be addressed.
"It's nice to know what we think we're coming across in the future," he said. "But we have to address that on a yearly basis and we have to watch it on a monthly basis to make sure that we stay within our means …
"We've got to think positive and not negatively on all these things. And I have a hard time working and understanding how we come up … It's nice to know these guesses, as I call them, for the future. But we don't know. And if you're going to be pessimistic about what is coming down five or six years from now, we'll all be in trouble. Because I'm pessimistic that Iran or somebody is going to bomb us. But I'm hoping if we're aware of what we're doing and we defer that by watching and doing exactly what we've been doing the last two years … making sure that we stay and spend no more than we have revenue coming in. Tax increases are a last resort as far as I'm concerned. We would never have asked for Prop S if it hadn't been we had a debt that we had to pay and we couldn't move forward without doing that.
"And we gave that to our residents and they came forward and said 'We agree with you and we want you to get this thing squared away.' And we've done that."