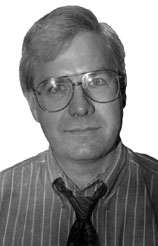 Life is good in the city of Crestwood and it is getting better under the direction of Mayor Jim Robertson and City Administrator Don Greer.
Come Tuesday, April 8, only residents in the city's Ward 2 will have a choice at the polls as Ward 1 Alder-man Richard LaBore, Ward 3 Alder-man Don Maddox and Ward 4 Alder-man Tom Fagan are unopposed in their re-election bids.
In addition, Ward 3 voters will elect a second alderman to fill the term that expires in April 2004.
That seat previously was held by Mr. Robertson, who was elected mayor last April, and currently is held by "Bernie" Alexander, who was ap-pointed by the mayor and board. Mrs. Alexander is unopposed in her bid for the seat.
In Ward 2, Jeffrey Schlink is challenging incumbent Tim Trueblood in the April 8 election.
We believe Ward 2 voters have a clear-cut and easy choice when they go to the polls: They should not hesitate to elect Mr. Trueblood to another three-year term on the Board of Aldermen.
Mr. Schlink appears to be a fine man who certainly is well-qualified to serve as an alderman and represent the citizens of Ward 2. He is articulate, well-informed and appears to have a genuine desire to serve.
However, we believe Mr. Schlink has failed to make a compelling case why Ward 2 voters should elect him over Mr. Trueblood, who has been serving with distinction on the Board of Aldermen since 1993.
During his tenure on the board, Mr. Trueblood has been a steadfast advocate for both the citizens of his ward and of the entire city. He always has spoken his mind and has refused to waver in his convictions – even when his position on a particular issue was unpopular with his fellow board members.
Mr. Trueblood has been outspoken in his belief that citizens should have open access to their government and has been a staunch supporter on initiatives calling for the tape recording of the meetings of all city boards, commissions and ad hoc committees appointed by the mayor, as well as the tape recording of closed sessions of the Board of Aldermen involving litigation and real estate matters.
Mr. Trueblood has demonstrated that he has the experience to represent the citizens of Ward 2 and we believe voters should reward his fine service with another term on the Board of Aldermen come April 8.