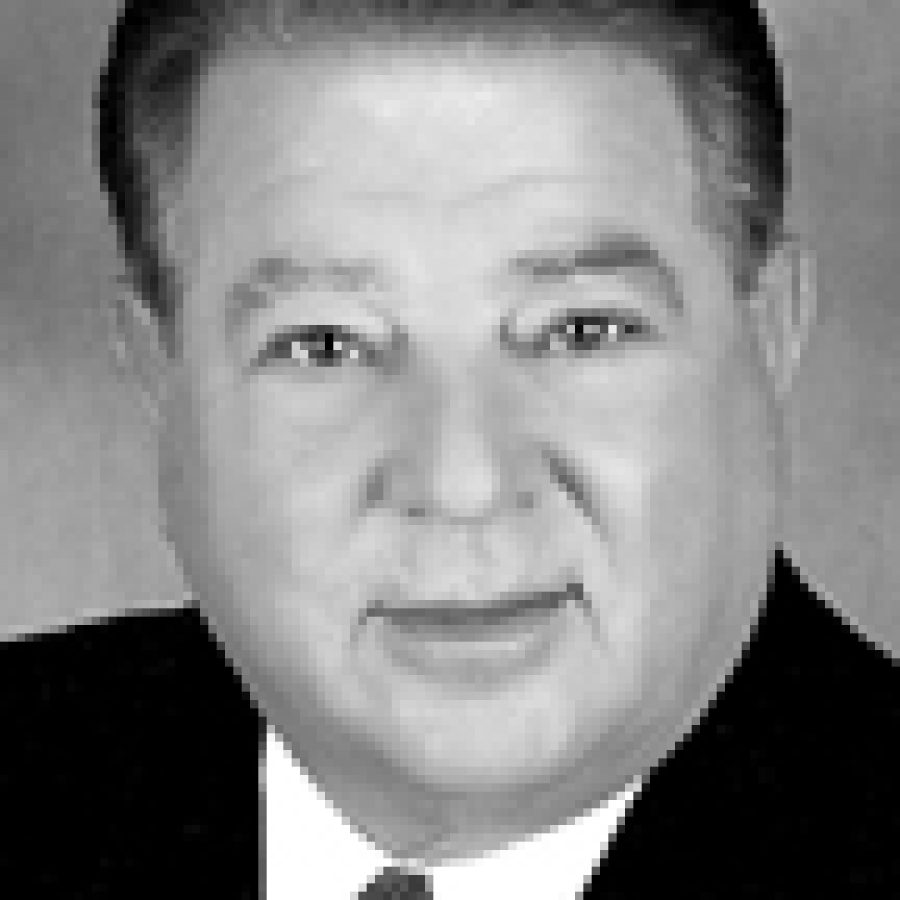 While Crestwood Mayor Roy Robinson is unconvinced a financial "storm" is looming, aldermen last week indicated they soon would like to develop strategies to stop a projected $3.7 million loss in the city's three major funds by the end of 2011.
City Administrator Frank Myers warned aldermen at a June 26 work session that the city could be headed for another financial "storm" based on former Assistant City Administrator Justina Tate's projections that expenditures will exceed revenues in the city's three major funds — the general fund, the capital-improvements fund and the park and stormwater fund.
Even with Tate's best-case scenario of moderate revenue growth, the city is projected to end 2007 with a combined loss of $53,846 in its three major funds. While the general fund is estimated to end the year with $165,364 in revenue over expenditures and the park and stormwater fund is slated for a $118 gain, the capital-improvements fund is estimated to lose $219,328 in expenditures over revenues.
In those three major funds, Tate's projections show that even assuming moderate revenue growth in all three funds combined, the city will lose $53,846 in 2007, $615,772 in 2008, $705,434 in 2009, $839,635 in 2010 and $1,512,976 in 2011.
Based on those projections, the city's expenditures-over-revenues decline over time in all three major funds combined would be $53,846 in 2007, $669,618 in 2008, $1,375,052 in 2009, $2,214,687 in 2010 and $3,739,663 in 2011.
Myers said it is important to remember that these projections are debatable and that they are not projected balances in each fund, but rather projected losses from balances the city already has.
At the end of 2006, the city had a total fund balance of $6,056,822. In the city's three major funds, the general fund had a $3,128,858 balance, the capital-improvements fund had a $1,207,382 balance and the park and stormwater fund had a $295,405 deficit.
Despite Tate's projections, Robinson said he is not worried because any actions taken by city officials will be budget driven.
"These assumptions are purely that," Robinson said. "Everybody, this five-year plan is not in concrete. There's a lot of figures, and anybody that can play with figures can play with it. What I'm saying is when you follow the budget and you know what you have coming in and when you don't have enough funds coming in, you cut back to make sure the spending is held in check. You eliminate a lot of the assumptions in there that there's going to be a lot of expending down the road and there's pay raises and there's all this stuff. What we've always said is it's budget driven …
"You hear people talk about we need more tax increase. I'm not in favor. We don't need any tax increase. Nobody's proved to me we've got any problem yet. But, you know, I hear all these things like gloom and doom. And I don't know where the gloom and doom is yet. When we see it, we will know it and we will make adjustments to take care of it. So I'm not there yet."
Voters in April 2006 approved the Proposition S tax-rate increase to help pay off $2 million in debt and eliminate a $1.5 million line of credit. Prop S, which will last seven years and generate an estimated $553,000 each year, is collected through a tax-rate increase of 20 cents per $100 of assessed valuation. But even with expected revenue from Prop S through 2013, the city is looking at projected losses in its three major funds through 2011.
That's why Ward 1 Alderman Richard Bland said that along with these projections, he would like to also see the administration develop multiple strategies to deal with pending troubles.
"I agree there's a lot of numbers and a lot of questions," Bland said. "However, one thing that I think is abundantly clear is we've not seen a single projection over the five-year plan that shows revenues increasing and expenses decreasing … I think it would be incumbent upon us if we could be proactive at this point rather than to be reactionary and wait until we end up in the red and then decide what we're going to do. I think the reality is these trends are trends. The trend is that our income is decreasing and it's going to continue to do so. Unless there is something unforeseen, I think the chances of it continuing to decrease are better than increase.
"… If the decline is $3 million by 2011, we're going to have to make some very difficult decisions. And I think we need to start developing strategies now."
"One of the assumptions in there that's not even included in any of this is the new businesses that are being built and the new businesses that are coming to town," Robinson said. "They are not included in that."
"Nor is any of the anchor stores in the mall or any other large businesses leaving this community," Bland replied.
"They're not leaving," Robinson said. "They're not leaving as we know of right now … but it is a possibility."
"But if things stay static, we'll call it a wash," Bland said. "I'll give you the new businesses, you give me the loss of an anchor store, it's a wash. Your numbers still don't compute at the end of 2011. And if we don't start strategizing and making good, sound decisions now, we will be in the same position we were when we had to ask for Prop S to wipe out our line of credit. And I think that's reactionary and wrong."
"As I said before, this mayor is not going to be supporting any tax increase of any kind until I find, until I see that we have a problem," Robinson said. "Then we'll go and I'll be willing to go to the people and inform them of what the problem is and how the money's going to be spent."
"I'm not necessarily asking for a tax increase," Bland said.
"Well," Robinson said.
"What I'm asking for is …," Bland said.
"There's rumors flowing in the background that's what you want," Robinson interjected.
"That's fine," Bland said. "That's fine. And if that is one of the strategies, pretending that it doesn't exist and pretending that by 2011 there's not going to be a shortage isn't going to make it go away. That needs to be one of the strategies presented, not necessarily the only one because I'm not going to support a tax increase by itself. I think it needs to be tied to a very strong, very, very aggressive economic-development plan. Because I don't think it's fair to go back to the citizens and balance our budget on their dollars. But having said that, I still think that we need to be proactive in this situation and I think that needs to be probably one of the strategies that's presented at the next meeting."
"Just so that we're out in public and we're being very clear, if you, if the board thinks that they can pass a tax issue without my support, the only problem is you will find out the road gets pretty rough," Robinson said. "There will be no tax support because the people know that we're doing everything that we can to do that. And when the time comes to be able to …
"I'm not asking for that, mayor," Bland interjected. "I'm simply stating that that is a strategy. It needs to be presented. That's all I'm saying."
"OK," Robinson said. "And I may support one …"
"And that's fine," Bland interjected. "I'm not asking you to at this point. I think that's very premature. However, to assume that that is not a strategy to deal with a long-term economic shortfall, I think, is shortsighted."
"Well, there's a lot of things we can cut before we get to the point where we have to ask for a tax increase," Robinson said.
"And I would ask the city administrator to include those in the strategies to deal with the potential shortfall," Bland said.
Ward 4 Alderman Steve Nieder agreed with Bland and pointed out that the uncertain future of the Westfield Shoppingtown Crestwood is further reason to develop strategies now.
"I echo everything that Alderman Bland just said," Nieder said. "The five-year plan that we saw was, not that we didn't consider the plan, but it was merely a point and a statement of what could possibly happen. But it did not carry any strategy of any sort. And we definitely need to have a strategy because we do have a major business here in town that is sick to say the least. And we have nothing to do with making it well … It's extremely important that we come together with a strategy in light of what's happening.
"And your (Robinson's) point of the new businesses coming on line, well, we have no proof or record of what they're going to contribute."
Board President Gregg Roby of Ward 3 also agreed that the city needs to take a proactive approach to prevent financial problems instead of reacting to them after they happen.
"If you see a comet heading toward Crestwood, you alert the people to the problem," Roby said. "You don't wait until it hits and then tell them that you've just been hit by a comet. Being proactive means that we need to set a plan in formation with our options."