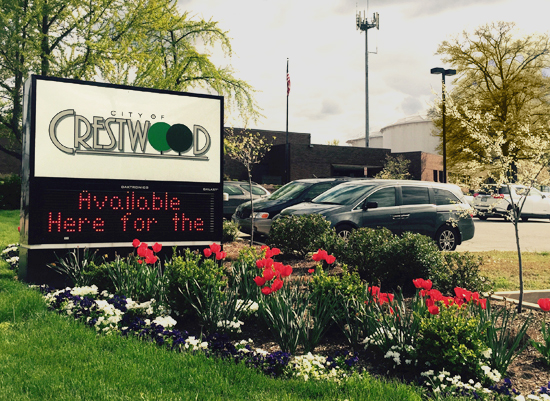 Gloria Lloyd
By Mike Anthony
Executive Editor
news1@callnewspapers.com
The Crestwood Board of Aldermen will continue a public hearing Tuesday, Feb. 27, on rezoning requests for two properties on Pardee Lane.
Aldermen opened a public hearing on the rezoning requests at their Jan. 23 meeting, but voted unanimously to continue the hearing until later this month.
The city's requests for 8659 Pardee Lane and 8687 Pardee Lane seek to change the zoning to M-1 Light Industrial District from R-4 Single-Family Residential District.
Both properties are near the site of a Metropolitan St. Louis Sewer District, or MSD, project on Pardee Lane designed to alleviate overflows into Gravois Creek.
The Gravois Trunk Sanitary Storage Facility Project, which could cost up to $40 million, will include the construction of two sewage storage tanks totaling 7.8 million gallons, a pump station, piping and two structures to divert wet-weather flow to the pump station.
The city's Planning and Zoning Commission voted 6-0 Jan. 3 to recommend the Board of Aldermen approve the rezoning requests. Commission member Andrew Meyerkord was absent.
The MSD project will be constructed on the site of the city's former Public Works facility at 8645 Pardee Lane. The sewer district is paying for the city's new Public Works building, which is nearing completion at 9353 Watson Industrial Park.
Besides a new 9,464-square-foot Public Works building, the $3.7 million project also includes a salt dome and a covered parking garage.
At the Jan. 23 public hearing on the Pardee Lane properties, resident Randy Stroede, who resides at 8680 Pardee Lane, told aldermen he opposes the city's rezoning requests. He also had voiced his opposition to the rezoning requests during a public hearing conducted by the Planning and Zoning Commission.
Stroede noted that MSD officials hosted a public meeting for residents regarding the project on Oct. 19, 2016.
But the Board of Aldermen had already voted unanimously during a Sept. 27, 2016, closed session to approve an agreement with MSD for the purchase and sale of real estate, along with a lease agreement between the city and MSD.
"… I question when did we have an opportunity to voice our opinion?" the resident asked.
Although his house is catty-corner to the site of the MSD project, Stroede said he had not received a buy-out offer from MSD officials. The district has purchased other properties on Pardee Lane, he added.
"… My house has already experienced a significant value loss because if I try to sell it now, I have to disclose that, and that's going to be a huge financial hit on me," Stroede said. "And there are other properties in the area, including the two next to me, that are in a similar situation that were made buy-out offers and I was never made a buy-out offer. And it really does make a change to the makeup of the neighborhood that I bought into."
Regarding the agreement between the city and the MSD, he said, "… It does say that they (Crestwood) will cooperate and help MSD in the zoning regulations, variances and those kinds of things for the use of the Public Works Department property that you are exchanging. That did not, in my opinion — and the city attorney can certainly make an opinion on this — that did not extend to helping with any additional properties outside of that property. And that includes the two that are being rezoned here."
Because he could not attend the Oct. 19, 2016, meeting, MSD representatives came to his house and made a presentation about the project, Stroede said. At that meeting, the MSD representatives told him they would make an offer to purchase his property and an appraiser later contacted him.
"And then they chose after a couple months, that, no, they were not going to make me an offer," Stroede said, adding that the project will be an eyesore given that the two tanks will be constructed roughly 200 feet from his house.
"When they tear down the two houses next to me, I will have a clear view of both of those tanks from all areas of my yard, including my back yard and my back patio," he said.
Ward 3 Alderman Grant Mabie later asked Steven Roberts, MSD project manager, "Is it correct that the MSD Board of Trustees is considering an action at their Feb. 15 meeting to potentially extend an offer to Mr. Stroede, who just spoke, for his home?"
Roberts replied, "I know the circumstances are being presented to the MSD board. I don't know exactly what is being presented, but those are things that happen above my level. But yes, this whole situation is being presented to the MSD board."
Mabie said, "OK, and would it be fair to say then that after the date of February the 15th, the situation between MSD and Mr. Stroede may or may not be resolved, depending on what happens at that Board of Trustees meeting?"
"That is correct," Roberts said.
Mabie later made a motion to continue the public hearing on the rezoning requests until Feb. 27. His motion was unanimously approved by the board.