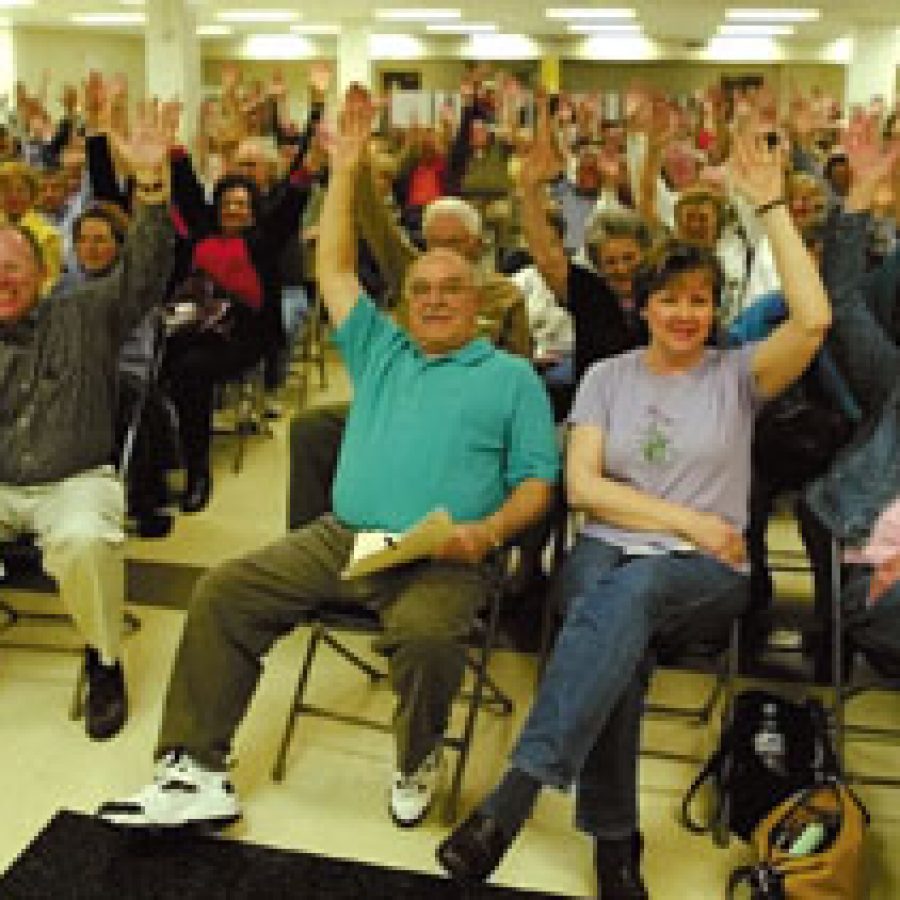 Despite outspoken opposition from hundreds of south county residents, a task force of St. Louis County officials concluded last week that "there is merit" to forming more than 20 trash districts in unincorporated areas during 2008 and 2009.
The trash-district plan will remove residents' right to choose their own trash hauler and transfer that responsibility to the County Council.
The County Council unanimously voted in December to divide unincorporated county areas into more than 20 residential trash districts and hire a single waste hauler for each district.
County officials have said some reasons for this are to ensure a uniform price range, a uniform service range, the need for more recycling and a desire to improve appearance and reduce wear and tear on county roads by lowering the number of trash trucks driving through the county at one time.
But those plans have been met with opposition, specifically in south county, where more than 400 people protested the trash districts in a March town-hall meeting at Oakville Senior High School mainly because their right to choose a hauler would be removed.
South county residents will have an opportunity to learn more about the trash districts on Aug. 9 — today — when 6th District Councilman John Campisi, R-south county, will discuss the task force's findings with the Tesson Ferry Township Republican Club. The meeting begins at 7 p.m. at Abiding Savior Lutheran Church, 4355 Butler Hill Road.
Oakville Township Republican Committeewoman Celeste Witzel, who also has publicly criticized the trash plans, is also scheduled to speak at the event.
Campisi, who said he voted for the trash-district plan in December because he was misled by former 3rd District Councilman Skip Mange, R-Town and Country, since has spoken out against it.
Instead of the plans put forth in that ordinance, Campisi has said he would like to designate two days per week in each trash district for waste pickup while still allowing every resident the right to choose their preferred hauler.
In response to criticism of the county's trash-district plan from Campisi and south county residents, County Executive Char-lie Dooley implemented a task force in April to further study the ordinance approved in December.
The task force, which consists of 19 county officials and is headed by Chief Operating Officer Garry Earls, concluded July 31 that the trash-district plan should be carried out in phases.
The task force recommends drafting legislation no later than September to establish a trash-service fund in the county. The fund would be used to offset costs including contract payments to trash haulers that are awarded certain districts, administrative costs to the county and collection costs that may result from a single-payer system for trash districts.
Task-force members also recommend the formation of a Trash Service Commission "to provide citizen input and advice" on the implementation and operation of trash-district contracts.
The task force further concluded that by December, county officials should establish a district boundary map and a request for proposals and standard contract for trash-collection services.
Further recommendations include advertising for two trash-district contracts by February 2008, awarding contracts for those two districts by May 2008, advertising four more district contracts by August 2008, awarding contracts to those four districts by October 2008, advertising for all remaining districts by November 2008 and awarding contracts to all districts by January 2009.
Phasing the districts would be advantageous as resources for its implementation could be more spread out over time, county officials could learn from early problems before implementing other districts and haulers could better learn the process before bidding on later-formed districts, according to the task force's report.
The task force also mentioned that because many south county residents are skeptical of the plan, starting districts in north county could help prove that the plan works.
The task force's report states: "South county citizens appear highly energized and oppositional. Starting in north county and proving the value of the districting could be advantageous to the overall process."
At the same time, the task force recognized that a disadvantage to awarding trash-district bids to waste haulers could result in some small haulers going out of business.
"There appears to be an unintended consequence to small haulers that do NOT win the first contract," the report states. "They may be out of business before the next opportunity to compete becomes available merely due to the reduction in cash flow."
The task force further recommended that the County Council should award three-year contracts to waste haulers for specific districts with the opportunity for two one-year extensions "based on satisfactory performance and the satisfactory completion of contract requirements."
Each contract would call for a minimum of once-per-week trash pickup and recycling and two bulk-waste pickups each year.
County officials included the recycling provision because an estimated 15 percent of trash in the county is recycled. The county's goal is to have 50 percent of all trash recycled by 2010.
The task force's report acknowledges that the "most controversial part" of the county's new standards for trash hauling is the stipulation that all haulers must offer recycling.
The report states: "Many residents have complained that this requires them to pay for this service even when they choose not to use the service. The task force has been convinced that forcing the recycling issue by pushing it forward in the service system is our best opportunity to meet the 50-percent reduction in the waste stream by 2010 … Imbedding recycling in the minimum standard for service is the most affordable way to get recycling in practice rather than in theory."
As for costs of these new standards in unincorporated areas, the task force recognizes that while some rates may rise for certain customers, its overall benefits, which include more efficient trash collection and more uniform prices, far outweigh any cost increases.
"We believe the opportunity to improve the quality of life in the unincorporated areas of the county afforded by this need to enhance the municipal services to those parts of the community outweigh the potential problems and costs associated with its initiative," the report states. "Although it is clear that this activity will generate substantial criticism from some parts of the community, the majority of the community will ultimately appreciate the improved quality of services and the price benefits of buying in quantity."