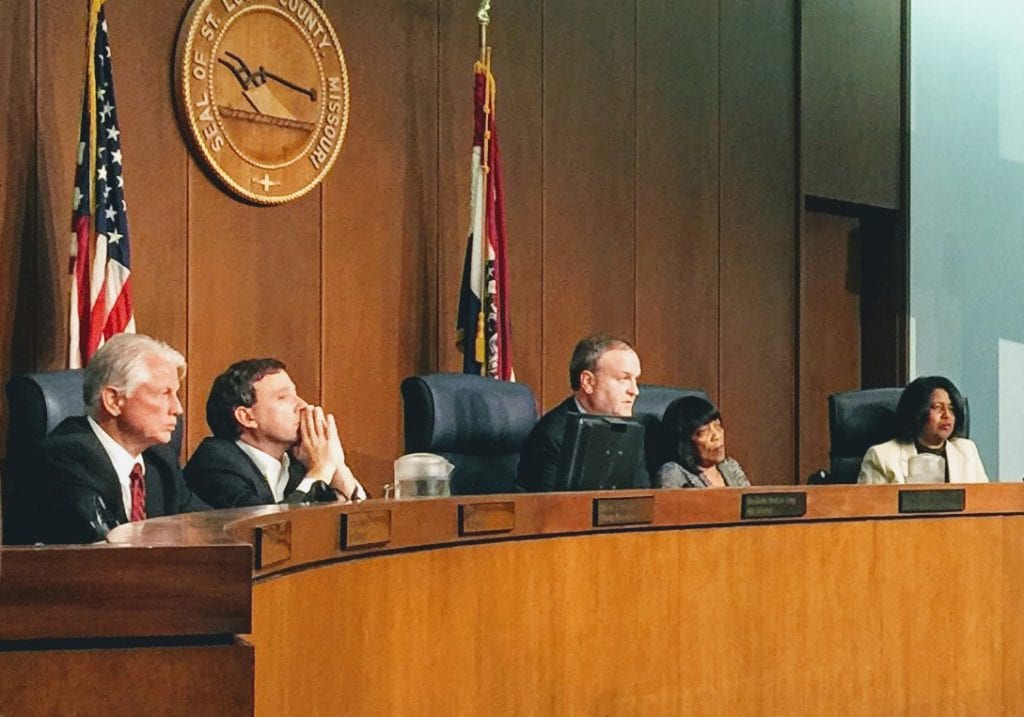 By Gloria Lloyd
Staff Reporter
news3@callnewspapers.com
The County Council will start meeting at 6:30 p.m. next week instead of its traditional starting time of 6 p.m. in a bid to make meetings more accessible for far-flung residents who want to get to Clayton from south and north county.
The first meeting at the new time will be at 6:30 p.m. Tuesday, Feb. 13, in the County Council Chambers, 41 S. Central Ave., Clayton.
The council voted unanimously to approve the change Jan. 23. The same council members last year voted down a bill, also sponsored by 7th District Councilman Mark Harder, R-Ballwin, to change to a later meeting time. At the time, 6th District Councilman Ernie Trakas, R-Oakville, sided with keeping the earlier time.
The council originally met at 3 p.m. before a Republican majority changed the meeting time to 6:30 p.m. in 2001. The meeting time later was changed to 6 p.m.
Before 2001, the Democratic majority opposed changing meetings to an evening time, insisting that residents would not be more likely to attend if meetings were later.
In the last several years, residents from south county like Jennifer Bird of Crestwood have asked the council to move back the meeting time even later.
"I think that we all know that any parentteacher groups, PTO organizations, Boy Scouts, Girl Scouts, so on and so forth, and certainly all of the city councils and boards of aldermen across the county meet at times when the constituents can get home from work and prepare their supper and take care of their families and then come in," Bird told the council Jan. 16. "So I'm being very sincere when I say thank you. I would like a 7 (p.m.) but I will take 6:30. I think that's extremely reasonable and I think it sends a clear message to all of the residents that you are interested in their input and their commentary and you do take their concerns into consideration when you're voting."
Trakas has since changed his mind, he said before the latest vote. When he first was elected to the council, he supported a 7 p.m. meeting time. But when he got into office, he realized how late that would make the day for county staff who have to attend the meetings.
"I think 6:30 is a decent compromise," Trakas said. "I understand it lengthens the day for you folks but, as Mr. Harder has stated on a number of occasions, it is quite a hike sometimes for people from west county or north county or south county to get here in time to sign up to speak before the 6 o'clock start, so I'm going to vote 'aye.'"
The measure gained two reluctant "yes" votes from 1st District Councilwoman Hazel Erby, D-University City, and 4th District Councilwoman Rochelle Walton Gray, D-Black Jack.
Gray had not received a single complaint about the time from her constituents.
"I had about 50 people come to speak in favor of additional training for police officers and different things they wanted to see happen with the Police Department, and that wasn't taken in consideration when the resolution came up," she said. "But we're supposed to take in consideration the 10 … people that speak against the time being at 6 o'clock."
Erby sympathized with county employees who will have to wait around in the cold and dark to stay for meetings in winter.
"I'll go ahead and vote in favor and give it a chance," she said. "Let's see if the people who think we should change the time really show up."