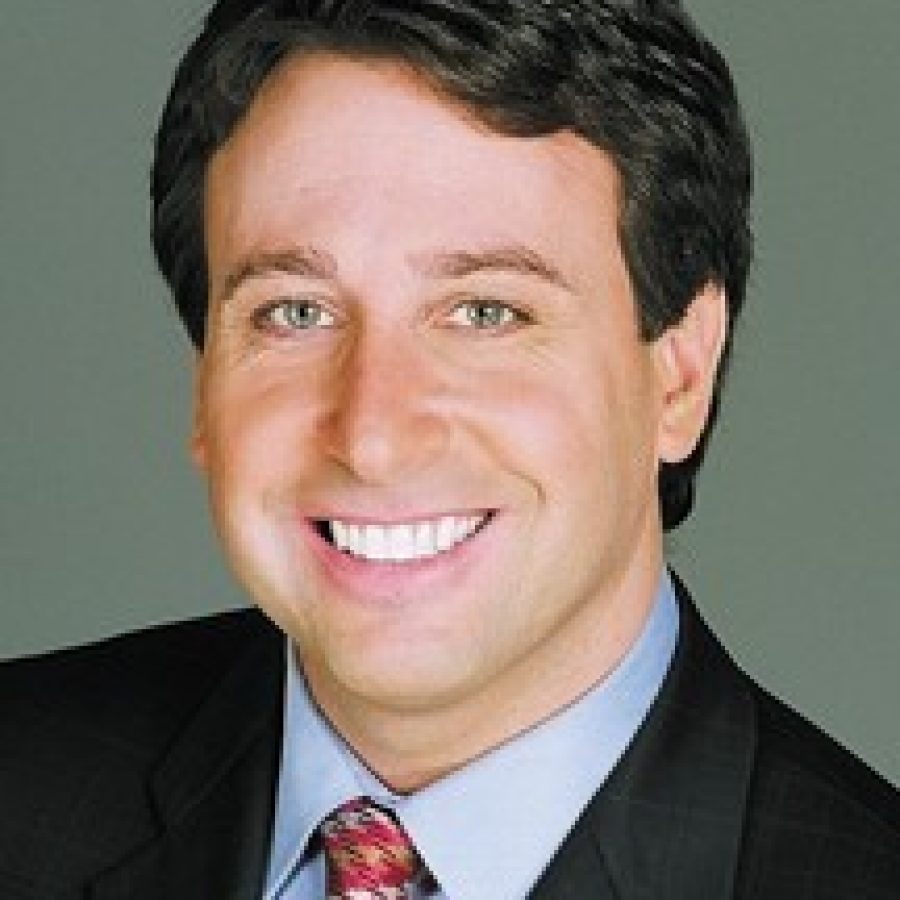 Members of the County Council are defending county Auditor Mark Tucker after County Executive Steve Stenger called for his firing amid allegations that Tucker is not qualified and has not completed any audits in his first six months on the job.
The council hired former state government worker Tucker on a 4-3 vote in February, with members of the majority alliance led by 6th District Councilman Ernie Trakas, R-Oakville, and council Chairman Sam Page, D-Creve Coeur, in favor.
"Taxpayers demand and deserve a competent and high-principled county auditor," Stenger read aloud at the Sept. 5 council meeting from a letter he sent the council earlier in the day. "In Tucker, they have neither."
Other council members have called for an investigation into whether Tucker's credentials qualify him for the job under the county Charter, which requires five years' accounting experience. County Prosecuting Attorney Robert McCulloch's fraud unit is conducting an investigation into Tucker, who has not made his resume public and deleted his LinkedIn profile — which did not list any financial experience — after a reporter wrote about it earlier this year.
Since Tucker's hiring, Stenger has maintained that the new auditor does not have the five years of accounting experience required by the county Charter, but last week was his first call for him to be fired.
Citing a television news report, Stenger also focused on Tucker allegedly not showing up for work on a regular basis and a substantial federal tax lien that Stenger believes leaves Tucker open to being compromised. But to the council members who have clashed with Stenger all year on county priorities, the criticism of Tucker is nothing more than a witch hunt against someone who aims to be an independent watchdog of county government.
"I am disappointed to see such unprecedented personal attacks launched on our county auditor by County Executive Stenger," Page said. "This is not good government."
The $85,000 position of county auditor is one of the most critical county hires, however, Stenger said. The role serves as the "designated watchdog" for taxpayers and "should be held to the highest personal and professional standards … Mark Tucker has failed to uphold those standards."
In an email to the reporter, Page defended Tucker's hiring as a catch for county taxpayers.
"Auditor Mark Tucker brings experience and skills earned in the private sector and state government to this position," he wrote. "We were lucky to be able to hire him."
In May, 7th District Councilman Mark Harder, R-Ballwin, asked for copies of any audits Tucker was performing.
But the auditor has not actually finished any audits in his first months on the job, council members confirmed last week.
"He has not been asked to do audits for his first six months in office, and the county executive does not give the auditor duties," Page said.
The auditor that the council unanimously fired and gave six months' compensation to in January, David Makarewicz, held several audit certifications and completed at least eight audits each year. Stenger credited the fired auditor with uncovering the $3.5 million fraud by a county Department of Public Health administrator, Ed Mueth, who killed himself after county officials confronted him in 2013, although council members disputed Makarewicz's role.
Past auditors have spent 4,000 audit hours a year and finished from 10 to 14 audits the last four years, along with two special project reviews a year, according to data in the 2017 county budget. The budget projected that the auditor would spend the same amount of time and finish 11 audits this year.
"You don't wait for the council to tell you what to audit, that's part of your job," county Communications Director Cordell Whitlock said. "If David Makarewicz had been in that position and he didn't have a deputy auditor, we've have more than zero audits now, I'd put my mortgage on it."
Stenger asked residents to call Page and Trakas in particular to complain about their choice for auditor.
Trakas voted to hire Tucker because he saw him as an independent check on Stenger, and he continued to support him last week.
"I'm optimistic that he will be able to perform the task that he was hired for," Trakas said.
Tucker faced a series of setbacks in his first months in office, including computer problems and the two other members of the auditor's staff leaving after he was hired. The deputy auditor, who had been up for the top job in the first place but lost out to Tucker, left for another county position.
Tucker has not responded to multiple requests for comment from the Call since he took office.
The television reporter requested logs from Tucker's badge that grants access to the county Administration Building and found that he didn't come to work at all 12 percent of the time and didn't arrive until after 9 a.m. 70 percent of the time or after 11 a.m. 40 percent of the time. Some days he didn't get to the office until 4:40 p.m.
Council members said Tucker is out doing fieldwork at county departments and that the position is not a traditional "desk job." In an email to the reporter, he said that he has been attending training sessions. The mere fact that he didn't show up for work by a certain time doesn't mean anything, Trakas said.
"Merely saying he didn't come in until after 9, didn't come in at all these days, didn't come in until after 11 — that may well be true, but I just don't know that we can conclude that he's not on the job during those periods," he said.
The reporter also found court documents that show Tucker owed a federal tax lien of $91,496 in 2011. The lien is still on Tucker's Creve Coeur house, according to county records.
"If he cannot responsibly look over his own finances, how can he oversee the county's?" Stenger said.
Court records obtained by the Call document other financial problems. He did not settle a 2011 state tax debt until 2014.
And since Tucker took office, he has been sued by Capital One Bank.
After Tucker's 2010 divorce from then-Assistant Attorney General Dana Redwing, he cashed out his retirement fund to support their son, Page said. That carried tax consequences that he is still paying to this day, and Tucker has stayed current on the payment plan, council members said. Tucker's LinkedIn profile does not list a job for five years starting in January 2010.
Tucker could release his first audit this week, council members promised.