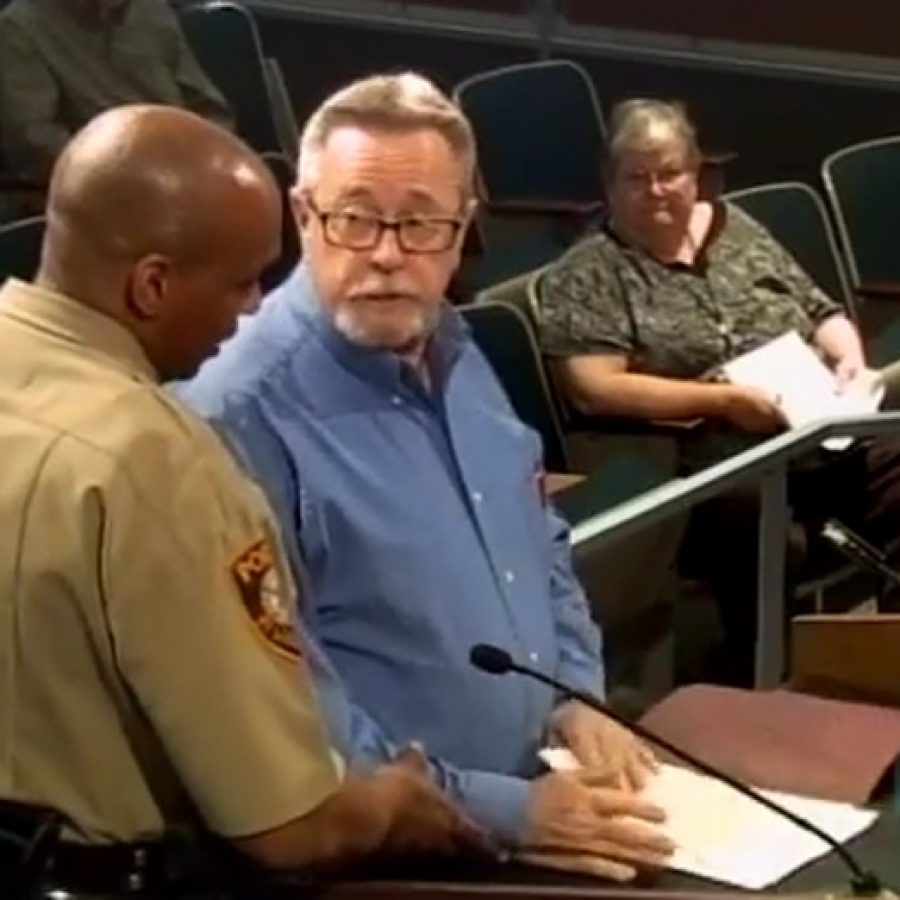 Over protests from Oakville residents who believe the County Council is placing the interests of developers over residents, the council unanimously approved a new subdivision by Oakville Elementary School.
The council voted March 22 to give final approval to the 13-acre, 41-home subdivision. That night, council Chairman Mike O'Mara, D-Florissant, summoned a police officer to force Oakville resident Jim Hamilton off the podium after Hamilton told the council he had a few more things he wished to say beyond the council's three-minute time limit on speakers.
The move symbolizes how little the council cares about what citizens have to say, Hamilton told the Call.
"I'm 64 years old with diabetes and a couple of stents in the ticker, which he would not know, but I don't look like a spring chicken, either," Hamilton said.
Hamilton is the head of a group that formed to oppose the subdivision, Concerned Oakville Residents Engaged, or CORE. In a series of public hearings, group members have opposed the project due to traffic and safety issues centering on the project's location two houses down from Oakville Elementary School.
They also object that the houses will be built around a 112-foot cell tower that has a conditional-use permit, or CUP, that calls for low-density uses.
In November, the Planning Commission — which includes three members from Oakville, Chairman Wayne Hilzinger, Vice Chairman Bill Sneed and Steve Lawler — unanimously recommended approval of Pinnacle Land Development's plan to build Grey Oaks Estates on the current site of Basler Nursery & Tree Farm, 2953 Yaeger Road. Houses would be single-story, one-and-a-half-story or two-story and sell for roughly $350,000, with lots that range from 6,000 square feet to 14,000 square feet, with an average of 7,500.
Residents will enter the subdivision through a single entrance off Yaeger Road.
At every stage in the zoning process, Oakville residents' concerns have been glanced over, Hamilton said.
"We think the council has violated several ordinances, ignored our comments and concerns and should be exposed for sailing this through," he said.
A key concern is that the Oakville subdivision could set a precedent for smaller lot sizes countywide.
"This land will only support 30 homes, not 41," neighbor Mary Beth Westhoff told the council. "Lots under 10,000 square feet are totally unacceptable. Would you want this for your home and neighborhood?"
Pinnacle representatives said they initially hoped to build apartments or villas, but county planners told them they would never approve multi-family housing at the site. In response to concerns that no one will want to buy houses with small yards built around a cell tower, Pinnacle attorney Dan Peters noted that the "modern, diverse" houses will be built by McBride & Son.
"McBride knows what the market wants," he said.
At the March 22 meeting, Hamilton first clashed with O'Mara when he tried to question 6th District Councilman Kevin O'Leary, D-Oakville.
O'Leary serves on the Public Improvements Committee, or PIC, a council subcommittee charged with re-examining disputed rezoning requests. The PIC held a public hearing on the Pinnacle development Feb. 2 and voted 3-1 to recommend approval, with O'Leary opposed.
But when the project came to the council again, O'Leary voted for it.
"Councilman O'Leary — you voted no to send this forward at the PIC and said you wanted to stand with residents of the 6th District, but you voted for it since then," Hamilton asked. "Can you tell us why?"
"Jim, this is only for public comment, it's not to be asking questions," O'Mara said.
"I intended that, but I'd like to have an answer that I can comment on," Hamilton replied.
"It's public comment — it's not public questions, it's public comment," O'Mara said.
"Well, I'll put it this way — Councilman O'Leary, I'm sorry that you chose to stop supporting the residents of the 6th District," Hamilton said. "For what reason we don't know, someone decided that Councilman O'Leary should not be the one who does this."
When County Clerk Genevieve Frank interjected that Hamilton's three-minute time limit was up, the CORE founder objected that he had a few more things to add.
"I refuse to give up three minutes for my right to free speech. I know it's a minor thing, so I know you're going to continue to let me talk …," he said.
"No, I'm not, your time is up," O'Mara said, summoning a police officer to the podium. The officer touched Hamilton on the back and the arm and ushered him away from the podium.
"So you're just going to throw me off the stage?" Hamilton asked. "I think it's important that you hear these things."
"We ask you in a polite manner — please leave," O'Mara said.
Any public speaker who runs out of time can leave their comments or questions with Frank to be answered by the council, O'Mara told the Call.
"(Hamilton) abruptly got rude and I just looked over at the officer, and they kindly walked him away — it was no argument," O'Mara said. "It's not the first time we've had to do that … Everybody else that spoke on behalf of the subdivision was kind and we let them speak their mind."
The council chairman announces the three-minute limit before every public comment period, but the only document on the county website that lists any time limit for public speakers says the time limit is five minutes. The document, signed by Frank, also says the overall time limit for all public comment at a single meeting is 30 minutes, which O'Mara says is an aspect of the county Charter that the council does not enforce.
"We've been very fair to the public when they come up and give their comments," O'Mara said. "When we've had some heated topics, they've gone around for an hour and a half and technically we could cut them off at 30 minutes, but we try to let everybody speak their mind … In three minutes, you should be able to address your comments in a timely manner."
The complaints from Oakville are the first time he's heard anyone object to the way he runs meetings, O'Mara added.
"This is the first complaint I've ever had," he said. "I've been on the council for 14 years, and it's never been addressed."
Although Peters told the PIC in February that the Baslers were selling their land because they are retiring, the Basler family is not retiring from the nursery business.
The Baslers plan to continue to operate the nursery and take care of their customers. The family has operated the Yaeger Road property as a tree farm since 1965 and as a nursery since 1985.