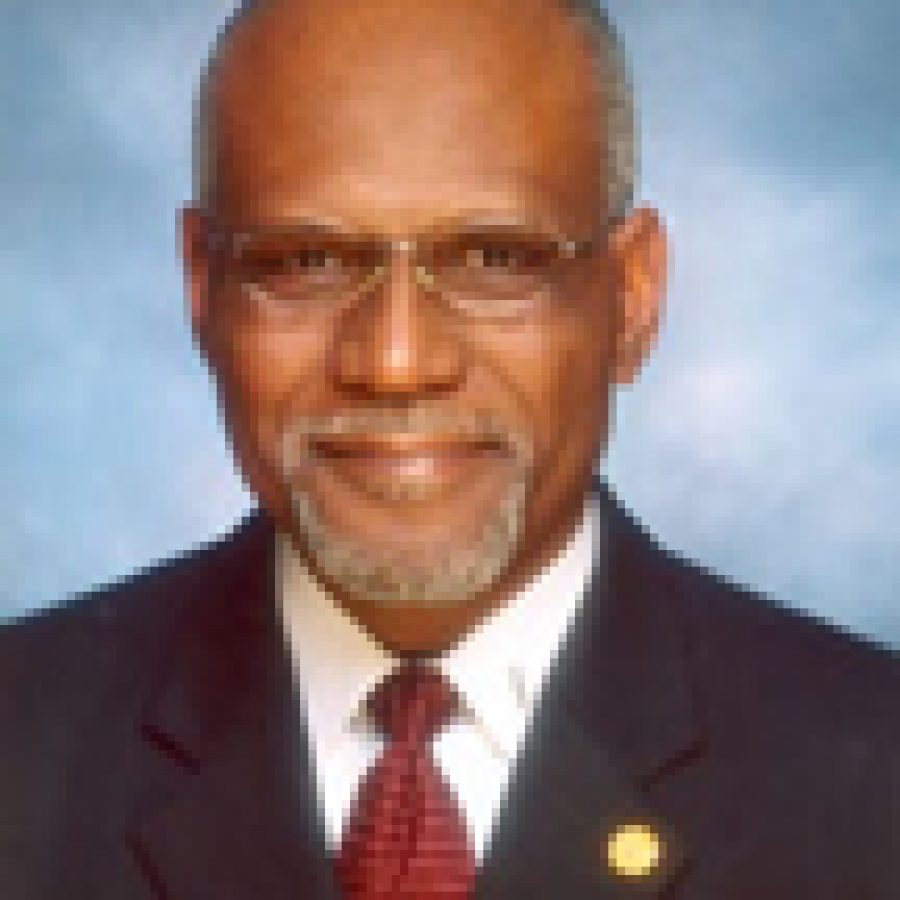 County Executive Charlie Dooley will square off in the Nov. 2 election against Republican Bill Corrigan and Libertarian Theo "Ted" Brown Sr.
Dooley, a Democrat, is seeking his second four-year term as county executive.
Asked to identify the most important issue in the race, the candidates responded:
• "The community improvement project (I am) working on currently as township committeeman," Brown said.
• "Job retention and creation. I will foster a collaborative, entrepreneurial spirit throughout the region and focus my efforts on attracting and retaining business; promoting private-sector jobs; collaborating with the outstanding research and educational facilities to retain innovation and talent and making government a better support system for economic growth," Corrigan said.
• "Jobs, good-paying jobs, are the single most important issue for the future of our working families … As county executive, I have maintained government efficiencies like our AAA bond rating that makes St. Louis County a great investment for small and large businesses. I work to increase our business base, thereby growing the jobs base every day. I have created a fiscally sound environment for new and existing jobs to thrive," Dooley said.
Brown, 61, 9901 Lilac Drive, 63137, is a publisher and the chief of the Castle Point Fire Protection Association. He is married and has five grown children.
Brown was a write-in candidate for Missouri governor in 2008, ran for county executive as a Libertarian in 2006 and was a write-in candidate for county executive in 2002. He is a county township committeeman and a trustee in his subdivision.
Brown said he is seeking office to "bring (the) county into the 21st century as an entity of the modern times."
Corrigan, 51, 52 Godwin Lane, Ladue, 63124, is an attorney with Armstrong Teasdale. He and his wife, Ann, have two daughters. He has not previously held elective office.
Asked why he is seeking office, Corrigan said, "I have lived throughout our county and believe with the right leadership and vision, we have everything it takes to turn St. Louis and the region into a center of economic growth and prosperity. I am a citizen with a passion for public service. I believe with my experience and leadership, we can restore common-sense government to the county and engage the community in a way that can ignite job growth, tax reform and restore ethics to county government."
Dooley, 62, 4408 Mathew St., Northwoods, 63121, is retired from Boeing, formerly McDonnell-Douglas. He and his wife, Sandra, have one daughter.
Dooley was elected mayor of Northwoods in 1983 after serving five years as an alderman. He was elected in 1994 as the 1st District's county councilman and served in that post until the County Council voted unanimously to appoint him county executive after the October 2003 death of County Executive George R. "Buzz" Westfall.
Dooley was elected to serve the remaining two years of Westfall's term in November 2004 and was elected to a full four-year term as county executive in November 2006.
Dooley said he is seeking another term in office "to continue to build an economic base in St. Louis County that encourages job growth. I will continue an administration of fiscal conservancy that has brought an AAA bond rating and a balanced budget to our citizens and our businesses. I will continue to promote the BOOST Loan Program for small businesses to grow and expand. I will continue to build a first class health department by completing our newest health center expansion.
"And finally I will continue to improve our internationally accredited Police Department. Jobs, safe neighborhoods and excellent health care are my three-part agenda for seeking office."
The candidates gave the following responses to a Call questionnaire:
Do you believe the County Council should approve legislation prohibiting councilmen from accepting campaign contributions from developers? Should councilmen vote on rezoning and development projects submitted by campaign contributors?
Brown said, "Yes. Codes of ethics need to be obeyed."
Corrigan said, "I believe it is important for candidates to make sure they are being open and honest about who supports them. I introduced an ethics plan which addresses conflicts of interest when I began my candidacy a year ago. I believe that the most open and transparent ethics code is needed to ensure that the public knows exactly who is supporting candidates for public office."
Dooley said, "Under my administration St. Louis County now enjoys the most stringent code of ethics. Everyone in my administration and the employees of St. Louis County follow its guidelines. Some contributors to my campaign may be developers, but they deserve no special treatment. Contributions from developers are no different than contributions from any other citizen. They look to support a strong administration, and I will operate and administrate a strong government."
Do you support the trash-district program that has been established in St. Louis County?
Brown said he does not support the program.
Corrigan said, "I'm greatly concerned about the manner in which the trash-district program was established by the current administration. Because of the Dooley administration's actions, the taxpayers may have to pay tens of millions of dollars in damages. Forcing the current program on residents without a vote is not serving the people."
Dooley said, "The program is well-received by the residents who acknowledge the fiscal savings and the positive environmental impact on our roads. Also increases to our recycling rate, which was a primary goal of the districts, have skyrocketed by upwards of 75 percent. Needless to say I see it as a positive accomplishment."
Should St. Louis County and St. Louis City merge? Please elaborate.
Brown said, "Yes."
Corrigan said, "There are too many other options to consider that could spur economic growth for the region before deciding to move toward a city/county merger. The county's first step should be to create a plan to work collaboratively with the city, surrounding counties and all of the municipalities in the region in order to work toward the greater good of the region. From my very first day in office I will make cooperation between the city and county a priority.
"I believe many government services could be provided to taxpayers in a more efficient way if officials would put the best interests of the region ahead of territorial politics," Corrigan added.
Dooley said, "I think it's time to start the conversation about how we can do things better when we do them together. The reality of today's economy means that we are going to have to change things to improve our ability to compete regionally, nationally and internationally. We need better schools. We need to keep more young university graduates. We need to train more workers for careers in the life and plant sciences, health research, law and information technology. We need more business incubators, a strong business climate and a government that works more efficiently and effectively with fewer resources.
"A better way of doing things is to eliminate duplication of services. Government shortchanges taxpayers when municipalities cannibalize each other. It would be good for the region's economy to cooperate and to consolidate where possible. Going forward, I plan to be talking to mayors of the county's 91 municipalities and (St. Louis) Mayor (Francis) Slay. There are things that we can do together and things that we can do better together."