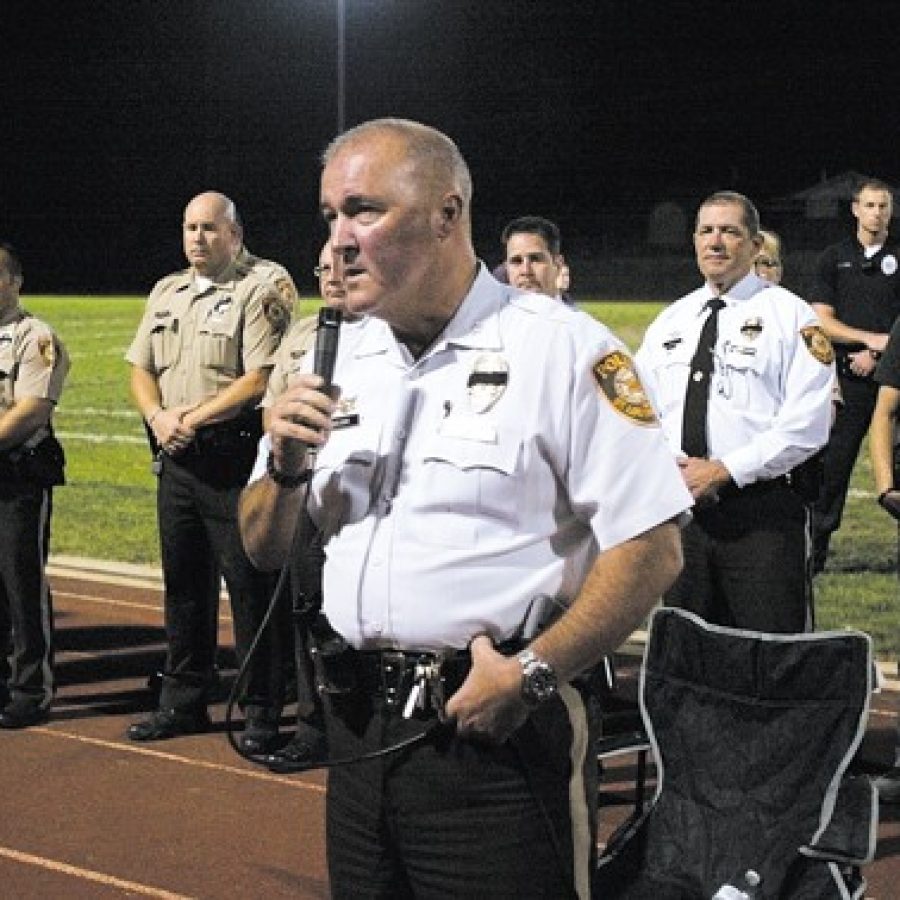 Officer Blake Snyder, who was shot and killed last week while responding to a disturbance call in Green Park, was so selfless that he would have chosen to sacrifice his life even if he had the chance to do it over again, his widow said.
Snyder, 33, a four-year veteran of the St. Louis County Police Department's Affton Southwest Precinct, is the 10th county officer to die in the line of duty in the department's history and the first since 2000.
Visitation for the officer is set from 4 to 9 p.m. Wednesday, Oct. 12 at Kutis Affton Chapel, 10151 Gravois Road. His funeral is set for 11 a.m. today — Oct. 13 — at the Family Church, 17458 Chesterfield Airport Road.
Gov. Jay Nixon ordered flags to fly at half-mast throughout the day in Snyder's honor.
A native of Godfrey, Ill., Snyder lived in Edwardsville, Ill., with his wife, Elizabeth, and their two-year-old son, Malachi.
The officer was completely devoted to his family, but he was also devoted to those he served, Elizabeth Snyder said during a televised interview.
"I know this of Blake, if he had the choice to go back and do it again, he would," she said. "He'd make the same choice. Because that's how much he cared and protected and served. He was so selfless. He made the ultimate sacrifice, and I couldn't be more proud of him … He was a good man and a good police officer, the best, and he sacrificed his life for others."
The Snyders met at church before marrying in 2013. Originally interested in design and architecture, Blake Snyder was a graphic designer who worked for several years at Destiny Church in Des Peres before he switched gears and went to the police academy.
He graduated in 2003 with a degree in architecture from Lewis and Clark Community College, where his father, Dick, is a professor emeritus and former vice president and where Snyder and his brother both played soccer. He graduated from Alton High School in Alton, Ill.
Before Snyder turned to police work, he served on the board of directors of Riverbend Family Ministries in Wood River, Ill., which provides resources and training for nonprofit organizations that help children, youth and families who have experienced trauma, most often due to violence, addiction, poverty and homelessness.
The ministry posted on its Facebook page after Snyder's death, "Dear Jesus, there are no words. He was a vital part of our board before he left to do what he loved to do — serve his community."
In the press conference announcing Snyder's death, St. Louis County Police Chief Jon Belmar noted how unusual it was for Snyder to change careers to become a police officer in his late 20s, rather than the more typical early 20s, and how committed that showed he was to his choice.
The last time Belmar saw and shook hands with Snyder was at Affton Days Sept. 24, where Snyder was doing what he always did, the chief said: Serving Affton.
"He wanted to help people," Belmar said.
Friends said the career change was partly inspired by Snyder's admiration for his wife's father, Michael Sparks, a retired police officer in Granite City, Ill., who died of cancer in 2013.
Soon after Snyder's son was born in 2014, the proud new father and new police officer posted a picture to Facebook of the newborn surrounded by his duty belt, hat, handcuffs and badge.
Over the next two years, he and his wife posted dozens of photographs of the family together, holding hands with their son.
"My goodness, what a beautiful young family," Belmar said at a spontaneously organized candlelight vigil at the Affton High School football field the day Snyder died. "What a loss to the Police Department, what a loss to the community."
For the family's last Halloween, they went with a law enforcement theme: Snyder as a police officer with tactical gear, his wife in black as a SWAT team member, and their son as a jailbird in black and white stripes.
"He's been asking for his daddy a lot, which is hard, 'cause I don't know how to respond to him yet," Elizabeth Snyder said of Malachi. "Because every time I look at him I'm also reminded of my husband not coming home … I am deeply proud of my husband, he is a hero, a true hero, and his son will grow up knowing that. He will know his father died for …," she added, unable to complete the sentence.
Snyder's family was proud that he was a police officer, extending to his many nieces and nephews.
A patient of Snyder's brother Adam, a dentist, wrote on Facebook that she remembered Snyder's nephew coming in dressed as a police officer.
"You could tell he idolized his uncle Blake," she wrote.
The pain of losing a family member in such a sudden, senseless way never goes away, county Prosecuting Attorney Robert McCulloch said last week. He lost his own father, a police officer, in the line of duty more than 50 years ago.
"There will not be a minute that I don't miss him and long for him," Elizabeth Snyder said. "He's not coming back. He was a good man and a good police officer, the best, and he sacrificed his life for others."
Residents of south county have rallied around the Snyder family the same way they rallied around the family of Ballwin Officer Mike Flamion, who was paralyzed from the neck down after being ambushed and shot from behind during a July traffic stop.
Affton and Oakville high schools held moments of silence during their football games last week, and Oakville Elementary students came up with an idea to hold a "PJs for Police" day to raise money for BackStoppers, Principal Chad Dickemper said.
Diners at Bandana's Bar-B-Q in Sunset Hills raised $6,500 while signing giant cards, and children in the Grant's View subdivision sold lemonade and cookies to raise money.
The Blarney Stone in Oakville collected water, soda and Gatorade to take to Snyder's visitation, while Irene's Floral Designs started selling blue ribbons, with proceeds going to BackStoppers.
BackStoppers gave Snyder's family an initial $5,000 last week and plans to assist his son through college. When a police officer or firefighter in the St. Louis region dies in the line of duty, BackStoppers steps in for survivors. The organization is currently assisting 80 families with 66 dependent children.
Donations can be sent to The BackStoppers, Inc., P.O. Box 795168, St. Louis, Mo. 63179, or donated online at backstoppers.org, with a memo that it is for Officer Snyder's family. Through Oct. 14, any donations up to $10,000 will be doubled by Don Brown Chevrolet.