Colorful, tasty treats a family affair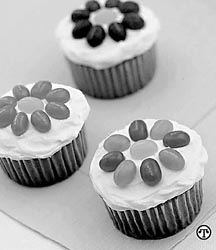 Americans increasingly are focusing on family, friends and the community and looking for opportunities to spend more time together.
A recent poll indicated that 70 percent of respondents spent more time with family in the past year-and-a-half. Many families believe that it is essential to include plan-ned family time each week.
More and more, parents are looking for relaxing activities to share with their children. Having the pantry stocked with ready-made cake mixes, frostings and jellybeans, both in original and tropical fruit flavors, will allow you to make and decorate Flower Cupcakes in just a few hours.
This is a fun activity that allows for lots of creativity and even the littlest of hands can decorate with jellybeans and jellybeans are available year round.
These cupcakes are great if you are looking for a birthday party activity. Just bake the cupcakes beforehand and then separate the different colors of jellybeans into bowls, and allow each child to decorate his or her own flower or mosaic design on the cupcake. For a nursery school graduation party or the last day of school celebration, these colorful, tasty treats are sure to receive high marks.
When the weather permits, invite the neighborhood children over for a garden party. Using the flower design, make a variety of different colored flowers, pour some lemonade and enjoy the great outdoors.
Using this same idea for a 9-inch-by-12-inch sheet cake would allow you to create a picture or mosaic with jellybeans. And for those who enjoy their treats on the tart side, jellybeans also are available in sour flavors.
Flower Cupcakes
1 box (18.25 oz.) yellow cake mix
1 container white frosting
1 bag jellybeans,
original or tropical fruits
Make cupcakes according to package directions.
Spread frosting onto cooled cupcakes and place jellybeans on top in a flower design.
Makes 1 dozen cupcakes.