Clarice's Bridal moves to south county
New larger location for bridal store opens in Green Park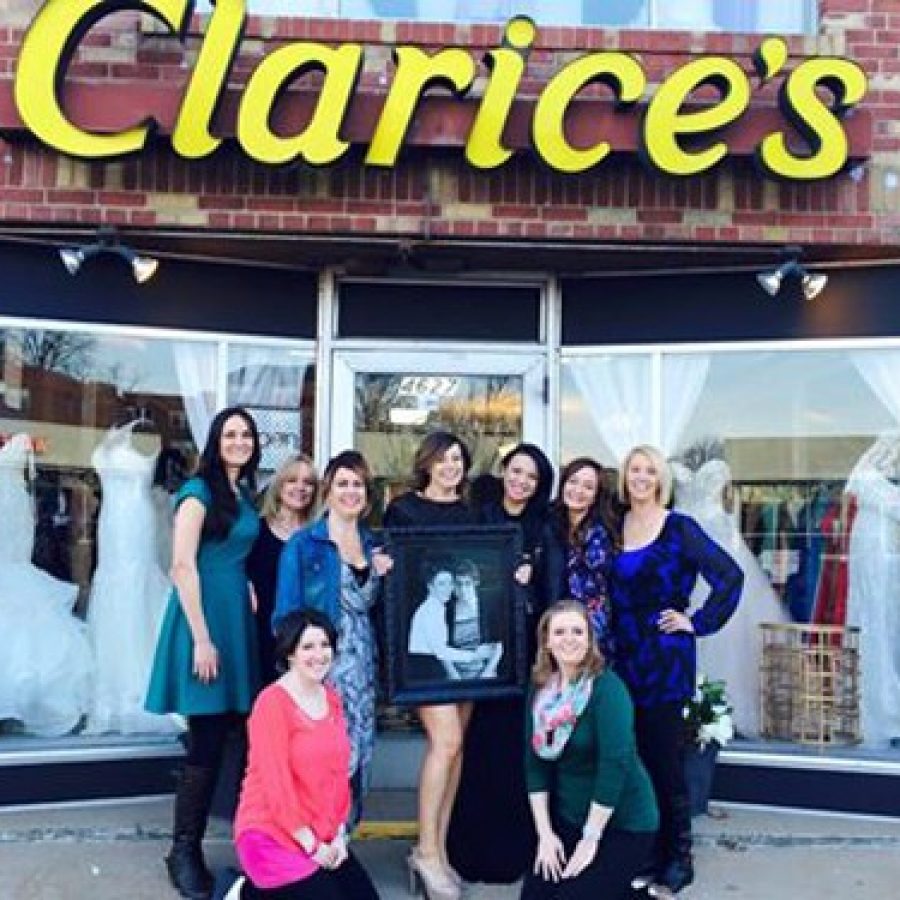 Clarice's Bridal celebrated its grand opening in south county Thursday with a ribbon-cutting and a family celebration, in advance of the March 1 grand opening.
The new larger location of the family-owned bridal boutique, at 5714 S. Lindbergh Blvd. in Green Park, marks a move to south county from the longtime Clarice's location at 4627 Hampton Ave., which closed Wednesday.
Today, the bridal store is owned and operated by Susan Caito and her niece, Katie Creech Surkamp. Susan and her mother Clarice Creech first opened Clarice's in the Holly Hills neighborhood in December 1979. It moved to Hampton in 1986. The Hampton store's last day of business was Feb. 6.
The "new, extravagant, beautiful" Lindbergh location is significantly larger than Clarice's has ever been, which allows more space for dressing rooms and displays, Surkamp said. Just in time for prom season, the store will now also have room to sell prom dresses.
"The place is beautiful, and I can't wait to help out customers at our new shop," Surkamp wrote on the store's Facebook page.
In advance of the south county opening, Surkamp told the Call the story of Clarice's, noting, "It all started in a small 800-square-foot building at the corner or Macklind and Eichelberger, in the Holly Hills neighborhood."
Surkamp has been working at Clarice's for 14 years, but she credits the store's decades of success to the teamwork of her aunt and grandmother, who worked side by side at the store for nearly 30 years, she said.
"Clarice and Sue were an amazing team… They poured their hearts and souls into every aspect of the business. They are the foundation of Clarice's Bridal and made it the great name that it is today. Clarice was a one-of-a-kind person – her love and personality radiated. Today, Sue and I carry on Clarice's legacy, along with the wonderful and unique women who are our sales team. These women continue to show the same love and excitement that Clarice did 37 years ago."
Leaving the Hampton location is bittersweet, Surkamp said.
"I have spent my entire childhood watching and helping brides find the perfect wedding gown. I have so many special memories of coming into work with my aunt and grandma," she said. "I would sneak away to dance in the mirrors and put veils on upstairs, and I cannot forget walking the runway as I modeled in all the runway shows! That was always so much fun as a child. I can only imagine how special the memories are for my aunt, as she was able to work with her mother for nearly 30 years at Clarice's.
"This is a very emotional move for many of us," she continued. "However, we are so excited to embark on this journey and create new memories at our new location. I would like to thank my Aunt Susie for making the new Clarice's Bridal on South Lindbergh a reality. For years, our team and myself could only dream of a larger location for Clarice's, but (she) made it happen. We have a new, extravagant, beautiful building that we will be opening on Thursday, Feb. 11, and I know that Clarice is looking down so proud of all the accomplishments we have achieved. She always dreamed big, and I'm looking forward to seeing her legacy continue for generations to come."