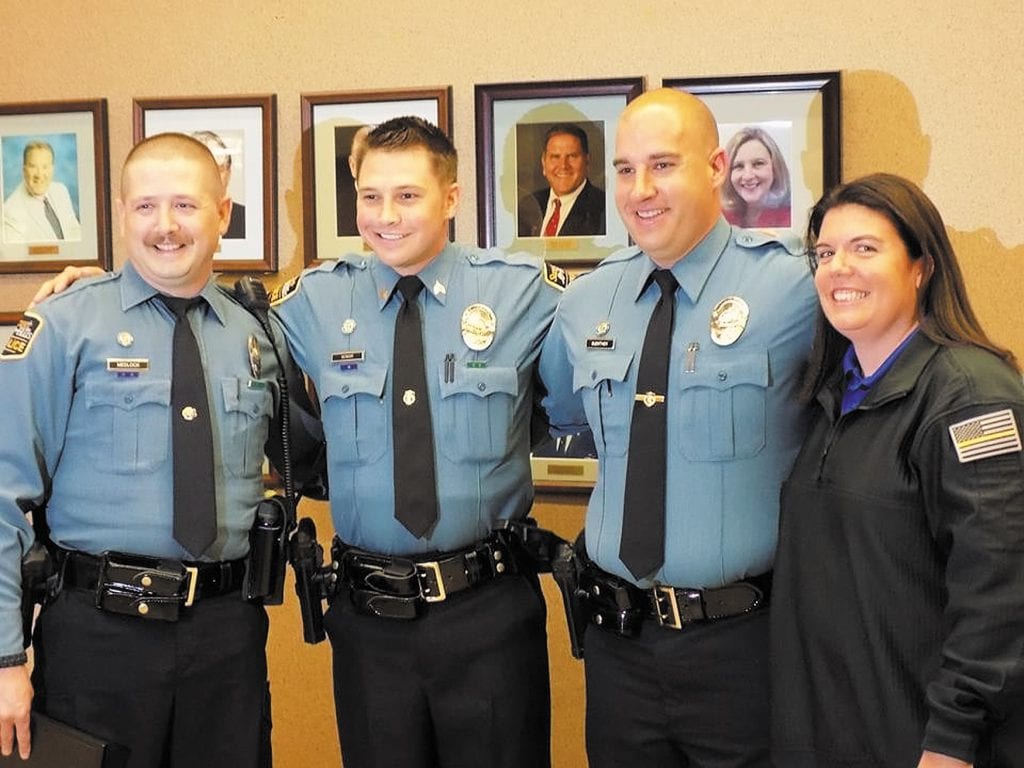 By Gloria Lloyd
Staff Reporter
news3@callnewspapers.com
Sunset Hills Police Department officers who narrowly escaped injury in a high-speed chase and shootout in August were publicly identified for the first time last week so that they could be honored by city officials.
Chief Stephen Dodge presented the Chief's Commendation for Valor to Officer Chris Medlock and the Outstanding Performance Award to Sgt. Jeff Senior, Officer Tim Guenther and Communications Officer Mary Ebeler at the Oct. 10 Board of Aldermen meeting, where the officers received a standing ovation.
The 30-minute high-speed chase started about 1:15 a.m. Aug. 26 when, police allege, a woman driving a convertible took off when Senior tried to make a police stop, hitting Medlock's car as she fled.
Her passenger was a House Springs man wanted on an outstanding felony warrant.
Police pursued the pair along Interstate 44 to Carondelet Park, where the car crashed after allegedly firing multiple shots at Medlock. No one was injured in the chase or shootout.
To show the barrage of bullets Medlock faced, the city released a photo of his bullet-riddled windshield. Under "heavy gunfire" and bullets flying through his windshield, he managed to bring the chase to an end with no injury to himself or the suspects, Dodge said.
As Senior, Medlock and Guenther chased the convertible down I-44, they relayed their locations to Ebeler back in Sunset Hills, who tracked their positions, requested helicopter backup and notified police agencies along the route about the chase and which way it was heading so they could help.
After exiting the interstate at Jefferson Avenue, the man fired several shots at Medlock's car, Dodge said. Under fire on Kingshighway, Medlock used his car to hit the fleeing convertible in an attempt to end the chase, causing the car to spin out and seemingly damaging it so that it couldn't take off again, according to the city proclamation.
Medlock fired six shots at the suspect, who fled again.
Near Carondelet Park, Medlock again used his car to strike the convertible, trying to get it to stop. That maneuver ended the chase by causing the driver to lose control.
The officers took two suspects into custody without any extra shots fired and without injuries to themselves or the suspects, Dodge noted.
"The professionalism and teamwork of Sgt. Jeff Senior, PO Tim Guenther and CO Mary Ebeler were crucial in bringing this assault and pursuit to a successful completion and deserving of the Outstanding Performance Award," Dodge said. "The heroic actions of PO Chris Medlock, who at grave risk to himself, continued pursuit in the face of heavy gunfire and ultimately brought this dangerous situation to an end by his actions, is deserving of the Chief's Commendation for Valor."
All the officers involved and Ebeler were previously honored or publicly commended by former Chief William LaGrand for their actions on the job in recent years.
Senior earned the Outstanding Performance Award twice in 2015, once for apprehending a burglary suspect and once for helping to save the life of an overdose victim.
In 2015, LaGrand noted that he received a letter from a company that provides mental-health services thanking the city for the actions of crisis intervention officer Medlock, Guenther and Sgt. Robbie Hagen, who helped to safely transport a suicidal/homicidal client to the hospital.
Unlike many similar situations the company had seen in the past, the sergeant and officers remained "cool, calm and collected" to keep the client from becoming agitated and get her to the hospital with no injuries.
Ebeler was honored for 15 years of service to Sunset Hills in December. In 2013, LaGrand mentioned her to the Board of Aldermen for her role in averting a potential emergency at City Hall.
When HVAC equipment froze and started smoking, triggering the local fire alarm, Ebeler was the first to notice by monitoring video screens since an audible alarm did not sound at the Police Department. Due to her early intervention, damage from the incident was minimal.
Medlock and Senior appeared on the Call's front page after the city's inaugural Coffee With a Cop event in May.
The Police Department plans to hold another Coffee With a Cop Nov. 11.