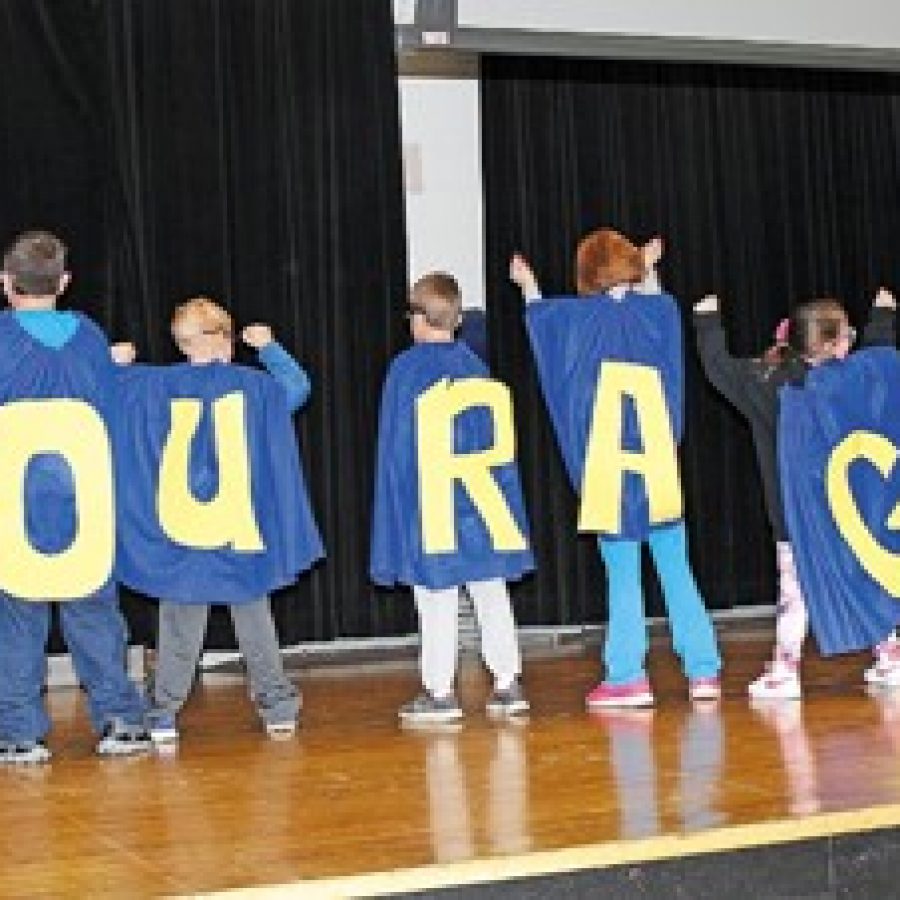 When the Character Education Partnership sent representatives to Blades Elementary School in Oakville for site visits to see if the school and the Mehlville School District qualified as a National District of Character, they asked the students they interviewed for examples of bullying — and students said they could not think of any.
"We are all one family," Oakville Elementary fifth-grader Charlotte told evaluators for the Character Education Partnership, or CEP.
Instead, the Blades students gave the Washington, D.C.-based CEP evaluators examples of ways students regularly encourage or help each other at Blades, including cheering for each other during sports and returning money to a student who dropped it.
That is the culture that character education strives to instill in students, schools and school districts, and is part of what Assistant Superintendent-Supervision of Schools Lisa Counts, who oversees Mehlville's character-education program, termed the "ongoing culture of positivity and kindness and tolerance" in Mehlville.
Lindbergh Schools has also created an atmosphere of tolerance, and students have taken the lead in the district's anti-bullying efforts, producing videos and mapping out blueprints of schools to identify hotspots where bullying could happen, Lindbergh Character Education Coordinator Amy Richards told the CEP.
Noting that Lindbergh is also the state's top-performing academic K-12 school district by test scores, she added, "We are acutely aware that this distinction would not be possible without character education."
Together, Lindbergh and Mehlville comprise two of the three districts honored nationally as National Districts of Character earlier this month, when administrators from both districts accepted National District of Character awards in a Washington, D.C. ceremony.
Representatives from Sperreng Middle School in Lindbergh and from five schools in Mehlville — Blades and Oakville elementaries and Oakville, Bernard and Buerkle middle schools — accepted National School of Character awards at the ceremony. Lindbergh now has six National Schools of Character, and Mehlville has 10.
And while the numerous national awards for Lindbergh and Mehlville this year are the crowning achievement to years of effort by both districts on character education, the biggest reward is in the atmosphere of acceptance at their schools.
That is especially true at Mehlville, where a "laser focus" on developing character over the past five years has amounted to a total transformation in the culture of Mehlville's 18 schools, then-Superintendent Eric Knost told the Call in May after the CEP announced that the district raked in the national honors.
While Mehlville is gaining unprecedented national recognition for its character education this year — the phenomenon of five schools gaining national honors the same year is what the CEP called the "Missouri Magic" — students and parents agree that the district's character initiatives have transformed the district over the past few years.
Representatives from the Washington, D.C.-based CEP make site visits to schools to determine whether districts merit the nationwide honor, and the group, a nonprofit organization, also takes into account a school's surrounding community.
Writing about Oakville Middle School, the CEP noted how Mehlville's students, staff and community welcomed transfer students from the Riverview Gardens School District with open arms, adding that none of the new students were bullied — a real possibility if the transfer students had transferred to schools in other districts.
As part of the CEP's site visits, evaluators talked to parents, administrators, students and staff. Bus drivers at Bernard told them about the positive impact that character education has had on behavior on buses — which is backed up by statistics that discipline referrals have decreased districtwide.
Mehlville board President Ron Fedorchak said he can see the difference character education has made through his daughters. His younger daughter, who goes to Oakville High, was nominated for an award by a bus driver after she helped a disabled student who was being bullied on a bus, he noted.
Mehlville parent Kelly Kennedy is part of the character team at Blades and gave the credit for much of the success of the district's character education to teachers, who go "above and beyond" what they have to do for students to become young adults of character — and encourage students to develop their own ways of showing character.
Character education is inexpensive to implement and is not a specific curriculum or a lesson plan, but a philosophy teachers weave throughout the school day, Counts told the Call.
The ideas focus on the 11 principles from CEP and on the 12 words of the month, which were selected by a survey of the Mehlville community. Individual schools also come up with their own variations, such as Forder Elementary's "Forder 5," and their own ideas for how to weave character lessons into lesson plans, Counts noted.
"We're not just spouting off the words or just using them on a surface level, but it really is how we approach everything we do in our building," she said.
Students are endlessly creative with coming up with their own ideas, especially when it involves helping out a fellow student, Counts said.
One of the pictures Mehlville submitted with its application is of Blades students Katie Townsend and Ella Roth assisting their fellow students, cancer survivors Parker Givens and Jacob Bartola, as they walk down the hall at Blades. As the other students hold hands with each other, Townsend holds Bartola's walker.
When Mehlville High student Ali Hayes, then 16, was diagnosed with leukemia, the district banded together as "Ali's Army" and raised money for her and her family.
Even elementary students are proposing and carrying out their own service projects, Kennedy said, listing some of the recent projects her Blades fifth-grader participated in. At Blades, older students mentor younger ones and help teach them responsibility.
"When they're raking leaves for their neighbors and working at St. Patrick Center (in Soulard) serving the homeless, those are the types of things they will continue doing as a young adult into adulthood," she said. "They're learning about responsibility, integrity, caring, kindness … That's making them into great human beings for society."
In its program book for the national honors, CEP said that its goal for character education is to make all students nationwide feel as safe and accepted in school as Nikki, a Mehlville High School graduate the group interviewed.
"What I love about Mehlville is the way I feel like I'm a part of something when I walk in the door," Nikki said.