CBC prevails over Mehlville Panthers 38-28 in Class 6 state football semifinal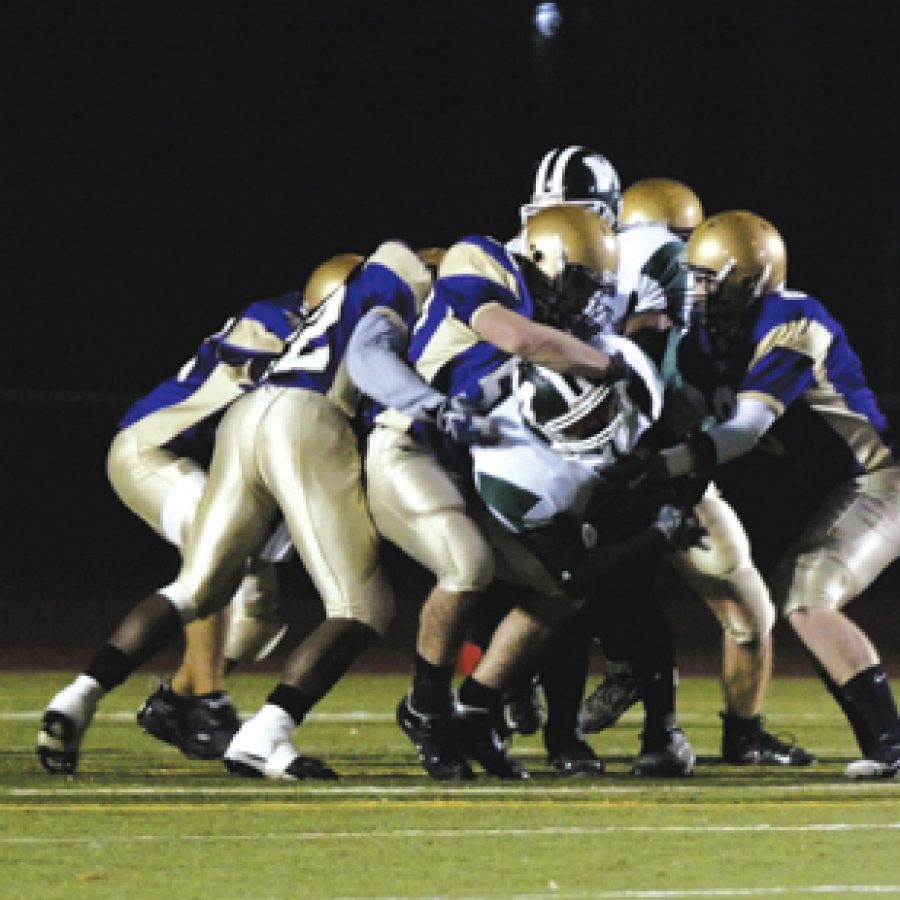 Though the Mehlville Senior High School football team dropped a 38-28 decision to CBC Friday in the Class 6 state semifinal, the Panthers proved their critics wrong.
The Panthers had struggled in 2005 with a record of 2-8 overall and a 1-6 mark in Suburban West Conference play. So when Mehlville went 0-2 to start the 2006 season, critics were quick to pounce on one of the most successful high school football programs in the state.
"When you have a down year, you want to get back on track," Mehlville head coach Gary Heyde told the Call. "All the naysayers start talking and they think the program has changed. But we haven't changed at all, we're back to playing Mehlville football."
Mehlville went 2-3 in its first five games before racking up a six-game winning streak that included a monumental 21-6 win over undefeated Oakville to win the District 1 championship.
But against CBC (11-1, 4-0 Metro Catholic) Mehlville's defense struggled to contain the trio of running back Rayon Simmons, quarterback David Kannapel and wide receiver Clay Wolff. Simmons carried the ball 21 times for 161 yards and three touchdowns while Kannapel completed 12 of 21 passes for 247 yards and two touchdowns. Wolff caught eight of Kannapel's passes for 155 yards and two touchdowns.
"CBC is an outstanding football team, but we gave up several big plays to them," Heyde said. "You need to play good defense if you're going to run the football."
The Panthers attacked first with their powerful running game as running back Joel Fieseler scored on an 11-yard touchdown run with 7:32 to go in the first quarter. The junior running back would carry the ball 24 times for 144 yards and four touchdowns.
"Joel's been running well all year long," Heyde said. "Last week, it was Rashad who had the big week for us and this week it was Joel."
Fieseler scored again with 2:53 to play in the first quarter on an 11-yard touchdown run to give Mehlville a 13-0 lead.
But CBC responded to the Panthers' 13-point outburst with a 39-yard touchdown run by Simmons with 12 seconds to go in the first quarter. The situation became grim for the Panthers when starting quarterback Kevin Mahler left the game because of an injury.
"We lost our quarterback in the first half and that made it tough for us," Heyde said. "Our running game was working well, so we mainly just ran the ball and threw only a few passes."
CBC head coach Bob Shannon told the Call, "After the first quarter, we knew our kids had to play better. They did that in the second half, but I still give Mehlville credit. They've got a good running game."
CBC scored again in the second quarter when Simmons busted out a 47-yard touchdown run with 9:38 to play in the quarter.
The Cadets scored again just seven minutes later as Kannapel connected with Wolff on a 26-yard touchdown pass with 2:37 left on the clock.
Mehlville got a key touchdown late in the second quarter as Joel Fieseler scored on a one-yard touchdown run with four seconds left in the quarter. Panther senior running back Rashad Wilson converted the two-point conversion to tie the game at 21-21.
"At that time, that touchdown was real important," Heyde said. "It was as if the game started over after halftime and the score was 0-0."
The Cadets jumped out to a 28-21 lead when Simmons scored on a seven-yard touchdown run with 9:28 to play in the third quarter. But once again, Mehlville's running game responded to the Cadets' touchdown when Fieseler hammered in a one-yard touchdown run with 2:07 to play in the quarter.
CBC immediately answered, driving down the field and scoring on a seven-yard touchdown pass from Kannapel to Wolff with one second to play in the third quarter.
"We had been trading blows, and they scored with about five or so seconds left in the third quarter," Heyde said. "We then drove down to their 30 and threw an interception."
The Cadets finished the win over Mehlville with a 26-yard field goal by Alex Barnes with 5:51 left in the fourth quarter.
Despite the loss, Heyde was pleased with the play of junior quarterback/linebacker Tyler Krueger, who recorded one tackle and one sack along with two completed passes for 33 yards and one interception.
"Tyler came into the second quarter and did a good job running the offense," Heyde said. "He also continued to play both ways for us."
Shannon said, "They've got a good punting game. You know, we played well enough to win, that's about all I can say. Offensively, we did really well. We had a little trouble with the run and we have to give Mehlville credit for that."
Noting that his team grabbed a 34-21 win over Mehlville Sept. 8, Shannon said, "Anytime you play somebody twice in a season, the advantage goes to the loser. They knew they had to come in and play probably one of their best games of the year and they did. I don't think they had a turnover.
"They usually turn it over a little bit, but they didn't turn it over this evening."