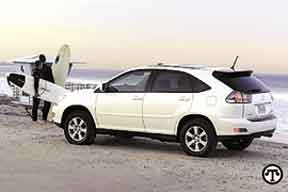 Purchasing a brand new automobile may be the remedy for spring fever

Each year, millions of Americans greet the vernal equinox with a restless edge – a pent-up feeling inside that just can't be shaken.

Unlike other maladies, most people don't want to eliminate spring fever, they just want to find a temporary cure – a pastime or purchase to help scratch that itch.

Americans overwhelmingly believe that the best cure for spring fever is the great outdoors – activities that allow them to bask in the glory of sunshine after a dreary winter spell, according to a national survey conducted by an automobile manufacturer.

When asked what their prescription was to cure spring fever, survey respondents gave the following answers:

1. Barbecue/picnic.

2. Beach.

3. Road trip.

4. Outdoor sports.

5. Baseball game.

6. Golf.

The survey found that those on the East Coast are more than twice as likely to see golf as the best prescription for spring fever as those in western states. Also, women are 50 percent more likely to want to celebrate the coming of spring by going to the beach.

"The best remedy for spring fever is doing naturally what your body is craving and seeking, such as going for a drive along the beach, that exposes you to the sun and allows you to release those pent-up feelings," Dr. Mark Hatton, a psychologist specializing in adjustment issues, stated in a news release. "So don't fight it. Just go with it."

In the Pacific states – California, Oregon, Washington, Hawaii and Alaska – people are more likely to buy a new car with the approach of spring. New models that will appear in showrooms right around that time will make getting to the beach and those springtime barbecues all the more fun.

As spring rolls around, nearly two-thirds of Americans want to play hooky more than once a month – and 23 percent actually do, according to the survey.