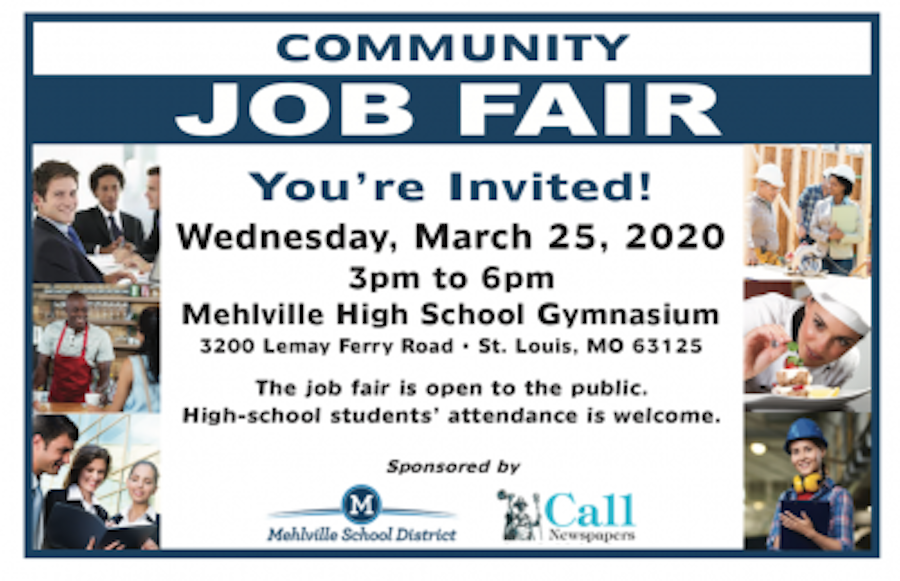 By Erin Achenbach
Staff Reporter
eachenbach@callnewspapers.com
Two South County organizations have joined together to connect the community with regional potential employers.
The first South County Community Job Fair is set for 3 to 6 p.m. Wednesday, March 25, in the Mehlville High School gymnasium, 3200 Lemay Ferry Road.
The Mehlville School District and Call Newspapers have teamed up to host the fair, which could have up to 50 businesses at the event seeking employees.
"The school district approached us and asked if we'd be interested in co-sponsoring an event like the job fair… This is something that the community could benefit from," said Call Newspapers Publisher Deborah Baker. "It's definitely needed, because I run into businesses every day that are looking for help."
The idea for a South County Community Job Fair came to be when Mehlville Executive Director of Planning and Development Chad Dickemper, along with other administrative staff, attended a job fair in a neighboring county last fall and recognized the need for a similar event in South County.
"We saw a huge representation of local employers, area residents and students participating and we immediately recognized what a benefit it could be to the Mehlville School District community," said Dickemper. "We reached out to The Call, who were interested in partnering with us, and we're just thrilled at the opportunity to… connect area businesses with community residents, employees and area students."
Mehlville and The Call will work to find four premier exhibitors and other businesses for standard exhibitors.
Premier spots cost $350, standard spots cost $250.
Chamber members from any local chambers, such as the South County Chamber of Commerce, Lemay Chamber of Commerce, Crestwood-Sunset Hills Area Chamber of Commerce and others, will receive a $50 discount on registration fees.
A list of businesses that register to take part in the job fair will be published in The Call leading up to the event.
"I hope that the community connects with some great new businesses. I hope the people who attend and the businesses who participate find just the folks they're looking for," said Baker.
"I feel the community will benefit because if businesses grow and if people find good positions, the outcome can be nothing but positive."
The event is free to the public, and high-school students are encouraged to attend as well.
"The whole notion for us is strengthening and developing existing partnerships through our community and business partners. That's the foundation," said Mehlville Director of College and Career Readiness John DeWalle. "Other communities have this opportunity, and we think that our business partnerships should have that as well as our community members."
The Call will assist in advertising the event and also organizing registration. Businesses wishing to participate in the job fair may contact The Call by calling 314-843-0102, emailing sales1@callnewspapers.com or visiting www.callnewspapers.com/jobfair.
The deadline to register an organization or business is Tuesday, March 10. Spaces are available on a first-come, first-serve basis.
Both Dickemper and Baker hope the job fair turns into an annual event for the community.
"We want to be able to create an opportunity for people to find the right employer and the right field of work so that they can be successful," said Dickemper. "Sometimes just the act of bringing folks together can make a lot of good things happen."
To stay up-to-date on the latest regarding the job fair, visit www.callnewspapers.com or visit the job fair's Facebook page at www.facebook.com/events/774004916423416/.