Call Newspapers Holiday Guide 2016
Walk through Bethlehem, carousel with Santa or donate to food pantries this holiday season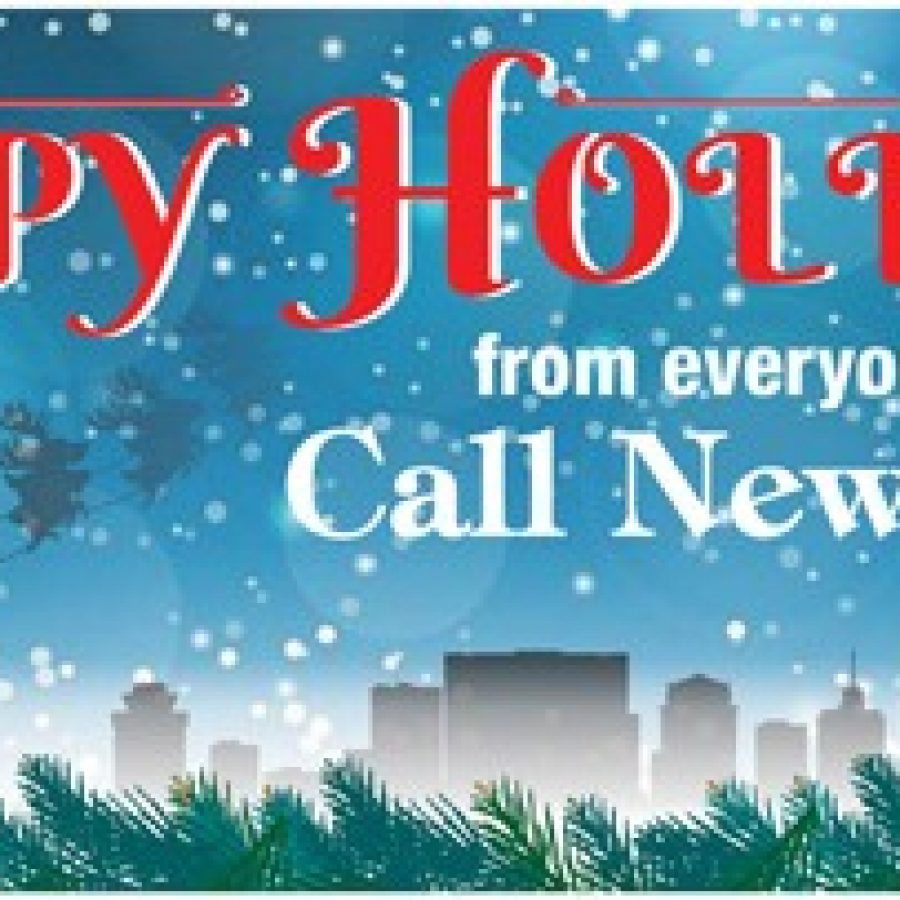 Merry Christmas and Happy Holidays from Call Newspapers! We wish you and yours a wonderful Christmas season. Here's to a wonderful holiday season and an even better 2017.
Check out our
, with everything you can see and do this holiday season in south county. If you want to roller-skate with Santa, carousel with Santa or just eat breakfast with Santa, we've got everything you need to know.
First, we'll highlight some unique events happening this weekend.
Dec. 3 and Dec. 4, 2 to 8 p.m, Canaan Baptist Church, Oakville.
Experience the journey to Christmas at Canaan Baptist Church, 5409 Baumgartner Road. Enjoy an interactive tour through our outdoor marketplace with the sights and sounds of the first century. This is the fourth annual Bethlehem in St. Louis event. Church members invite you and your family to join them this Christmas season as they celebrate the truth of Jesus Christ.
 Dec. 3, noon to 2 p.m. Kick off Crestwood's annual Christmas celebration by meeting Santa at City Hall, 1 Detjen Drive. Santa will make his grand entrance at noon on a fire engine and open the doors to City Hall. The first 175 children will receive a fun gift bag full of goodies from local businesses. Families are invited to join in the spirit of the season by bringing nonperishable food items to support the Prince of Peace Food Pantry, and/or, bring a new unwrapped toy for Toys for School Kids. Families may bring their own camera or they may purchase a photo package courtesy of Spectrum Eyeglass Repair and Crestwood Walgreens. All proceeds from the photo packages benefit Toys for School Kids. There will be Crestwood Firehouse tours, a craft table, furry friends to pet or adopt from the Crestwood Animal Shelter, Missouri Valley Search and Rescue will offer free Kids Kardz ID cards, enter a free raffle for a children's book gift basket from Pauline Books and Media, stop by the Sappington House table for a coupon for a free original coloring book, and check out the information table for more fun Crestwood holiday events. The decorations will be created by Lindbergh Schools elementary school students, along with holiday music and cookies, make for a fun and festive afternoon.
The first
, Dec. 3, 3 to 7 p.m., sponsored and hosted by Fairway Automotive, 8750 Watson Road. Pole Position Raceway, 8800 Watson Road, has offered their parking lot for visitors to use. Fairway will be chauffeuring guests in golf carts to the event, which will be filled with fun and exciting activities, along with lots of eye candy for those who love cars. Besides cars, motorcycles will be on display and food and drink specials will be available. A caricature artist will be stationed at Malone's Grill and Pub from 5 to 7 p.m. A DJ will provide holiday music. The day's activities will end with a fireworks display.
Dec. 1 to Dec. 25.
Celebrate the holidays with this third annual event by visiting some of the 96 businesses who are participating. Rate a business's tree during your visit and be entered into a weekly drawing for a gift basket chock-full of goodies from Crestwood merchants. Last year's gift baskets were valued at over $600 each. By rating the holiday trees, you are helping to choose which businesses will win one of two "People's Choice" awards. To be entered into the Grand Prize Gift Basket drawing you must use a special Grand Prize form and visit any 50 of the businesses, plus the Crestwood Community Center.  
Dec. 4, 5 to 8 p.m.
See 620 Combat Support Battalion, a Crestwood fire truck, bonfires and Santa Claus. Enjoy caroling, cookies and hot cocoa. Walk along Grant's Trail from Big Bend to Watson lit with luminaries supporting our military through the efforts of USA Cares. Parking is available on the Crestwood Elementary lot. Contact
or (314) 484-1094. Donate $5 to honor your service person with a luminary or $25 for a special lighted balloon.
Dec. 4: The Lindbergh High School Parent Group will hold its
.
Dec. 11:
, 11 a.m. to 5 p.m.
Plan a road trip to historic houses around St. Louis. Trek from Hanley House in Clayton to Mudd's Grove in Kirkwood, and from Hawken House in Webster Groves to Sappington House in Crestwood, each decorated for the season and serving delicious treats. The cost is $25 for adults; free for children 12 and under.  Tickets on sale in the Sappington House Museum, Loft Gift Shop, The Barn restaurant and at the Crestwood Community Center.
Santa will be making many stops throughout south county this year. He's a busy guy!
Dec. 2
, 6 to 8:30 p.m. Vendors, face painting, balloon animals, crafts, games, personalized ornaments, letters to Santa and special guest Santa. Reservations required and form available here: https://www.peachjar.com/index.php?a=2&b=224165®ion_id=93204.
$7 package includes 5×7 picture and a sheet of wallets.
Dec. 3
, 9 a.m. to noon. $7 per child in advance, $10 at the door. Parents can eat breakfast for $3.
(see above).
Dec. 4
, 10 a.m. to 1:30 p.m., LiUNA Event Center, 4532 S. Lindbergh Blvd., Sunset Hills. Adult buffet $19.95, children under 12 $7.95. Reservations are required. Call (314) 226-1010 for reservations.
, noon to 3 p.m.
Museum of Transportation, 3015 Barrett Station Road, Kirkwood. 
Bring your camera for free photos. Museum admission required. 
5 to 6 p.m.
Santa Claus rides to the Affton White-Rodgers Community Center on a fire truck from the Affton Fire Protection District. Dance show given by Footnotes and Magic Show by Abra Kid Abra. Santa will light the holiday tree and pass out treats to children. Call (314) 615-8822 for more information. Free event.
Dec. 5
, 6:30 to 8:30 p.m., Rollercade, 11703 Baptist Church Road. $6 per skater includes rental.
Dec. 7
, 6:30 to 8 p.m. Meet Kris Kringle in the OES cafeteria and enjoy some milk and cookies! Cost is $1 at the door.
Dec. 8
, 6 to 8 p.m., Rogers Elementary gym/cafeteria
The Rogers Elementary PTO is sponsoring this event, which they intend to become an annual tradition, for the first time this year. The price for up to a family of four is $25, which includes a 5×7 photo and Chris' pancakes. Each additional person and photo are $5 more. Deadline to sign up is today. For the registration form, click here:
, 5 to 9 p.m.
To receive multiple pictures on a disk, the cost is $15. Advance registration is required by emailing mcraens@yahoo.com.
Proceeds go to the Point PTO.
Dec. 10
, 9 a.m. to 12 p.m., Aunt Maggie's restaurant, 230 N. Main, Columbia, Ill. — Bring your camera. Order your holiday pies and cakes now.
, 9:30 to 11:30 a.m. — Join American Eagle Credit Union in Crestwood for a picture with Santa, it's free! 
, 11 a.m. ro 2 p.m., Crestwood Cycle House Performance in Crestwood. Meet Cycle Claus with motorcycle Christmas tree. Bring your camera for photos with Santa!
, noon to 2 p.m., Faust Park. Come ride the Carousel with Santa, make a reindeer ornament and enjoy a Christmas cookie. Be entered in a drawing for a membership! To register call (314) 615-8345. Deadline is Dec. 1.
For children 3 to 9 years old. The cost is $15 per child.
, noon to 4 p.m.
Museum of Transportation, 3015 Barrett Station Road, Kirkwood. 
Bring your camera for free photos. Museum admission required. 
, 1 to 3 p.m., hosted by the city of Green Park, Green Park City Hall, 11100 Mueller Road, Suite 5.
Green Park residents' children and grandchildren 12 years of age or younger are invited to attend. All children must be accompanied by an adult. Santa will be dropping by to chat with the boys and girls. Bring your camera to take pictures of your child on Santa's lap There will be snacks and beverages. Make your reservations by contacting City Hall at (314) 894-7336.
, 5 to 7 p.m. Come take your picture with Santa at Spectrum Eyeglass Repair in Crestwood Dec. 10, and again on Dec. 17 from 5 to 7 p.m. and Dec. 18 from noon to 2 p.m.. Picture packages are available for $19.95 and all proceeds will go to "Toys for School Kids." Donated Toys are welcome as well. While you're there, you can shop their unique selection of handmade jewelry and custom-made glass frames.
Dec. 17
, 9  to 11 a.m.
Santa Claus will host a breakfast at the Sunset Hills Community Center, 3939 S. Lindbergh Blvd. Breakfast will be provided by Chick-fil-a. After breakfast you will have the opportunity to take pictures with Santa. Fee: $7/per person Call the Community Center to make reservations. All participants must register before Dec. 10.
, noon to 2 p.m.—- Santa Claus will be at Finney's All N 1 Fitness in Crestwood — Come sit on Santa's lap and get your picture taken.
Dec. 18
, 7 to 11 a.m., St. Catherine Laboure School Cafeteria. Carryouts available. Adults $7, families $18, children 6 and under free, kids 7 to 12 $3.
Dec. 22
, 12-5 p.m. He will also appear on Dec. 2 10 a.m. to 6 p.m., Dec. 23 1 to 6 p.m. and Dec. 24 10 a.m. to 3 p.m. Santa will be available at the store to meet with young and old alike.
Dec. 23
, Kennedy Recreation Complex, 6050 Wells Road, 10 a.m. to noon.
Join Mrs. Claus and Santa at Kennedy Complex! Enjoy stories with Mrs. Claus, skating, face painting, holiday craft and a yummy snack. Bring your camera and snap a picture with Santa. Preregistration is required, space is limited. To register, call (314) 615-5572. The cost is $8 per person plus skate rental.
To find the
in St. Louis, visit
. The website is created by Affton resident Laura Thake and her nephew Mitch Miller and lists all the best places to see Christmas lights around south county and the region.
The annual
for all of south county will soon be underway, co-sponsored by Call Newspapers, Coldwell Banker Gundaker Realtors-Telegraph and Handyman Hardware. Entrants always come from throughout south county and are awarded based on Most Attractive and Most Creative displays. Winners will be featured in the Call. Call (314) 487-0050 by Dec. 5 to enter.
Park board judging will take place Dec. 12 for Sunset Hills' annual contest. Light up the Holiday Season by decorating your house for the Sunset Hills annual holiday lighting contest. Call the Community Center at (314)842-7265 to register your home or business today.
Judging will take place Sunday, Dec. 11. To participate in the contest, have your lights on that evening by 6 p.m. Designs will be judged on elaboration, creativity, complexity, use of lights and overall impression. Winners will come from each ward and will be contacted the week of Dec. 12 to come to City Hall and pick up their prize. If you are interested in volunteering as a judge, contact City Hall at )314) 894-7336. Let's Light Up Green Park!
, December 16, 5 -7 pm. Crestwood residents, be sure to have your holiday decorations and lights turned on by 5 p.m. Several  "elves" will be out that evening delivering a small Thank You  to the many of you who help fill Crestwood with color and cheer during the holidays.
Dec. 3
9 a.m. to 4 p.m. Oakville High School, 5557 Milburn Road. Two-day event continuing Dec. 4. Almost 250 spaces of unique and creative crafters. Free admission, free parking, strollers allowed. If you like craft shows, you will love this one. 
, Southview Assisted Living & Memory Care, 9916 Reavis Road, Affton, 1 to 3 p.m.
Dec. 4 
 10 a.m. to 4 p.m. Oakville High School, 5557 Milburn Road. Two-day event continuing Dec. 4. Almost 250 spaces of unique and creative crafters. Free admission, free parking, strollers allowed. If you like craft shows, you will love this one. 
Give a needy family a Christmas to remember. Donate your unwrapped new gifts, such as toys, games or clothing, to the Feed My People office in south county/Lemay. Our clients come in all ages and sizes.
The Adopt-a-Family Christmas Basket provides canned goods, non-perishable groceries, personal care items and a grocery gift certificate to Dierbergs, Schnucks or Shop 'n Save.
The food pantry needs: box potatoes, box stuffing, box pasta, box macaroni, soups, jello/pudding, canned fruits, paper towels, bar soap and dish soap.
, Nov. 14 through Dec. 17.
The United States Marine Corps and the Semper Fi Society partner for the annual Toys for Tots campaign to provide new, unwrapped toys for children to spread holiday cheer and ensure that every child has a toy under the Christmas tree. All of the collections in the St. Louis metro area are focused locally in the community, on the Missouri and Illinois sides of the river. You can either donate a new, unwrapped toy or make a monetary donation.
The Marines provide toys for children from birth to 18 years old, but this year, there is a special need for toys for preteens and teens ages 8 to 13.
Donate at any metro Commerce Bank, Vatterott College, Sugarfire Smoke House or Ginger Bay Salon and Spa location.
Toy drives:
Dec. 16, 6 a.m. to 7 p.m. at the Kirkwood Commerce Bank, 300 N. Kirkwood Road
The Wohlwend Elementary Character Club is adopting a family in need for Christmas and is collecting donations for the family through Dec. 5. The family of 8 is dealing with cancer. The students are accepting cash donations or items from a list you can find here:
https://www.peachjar.com/index.php?a=2&b=233085®ion_id=93215
The Blades Beta Club is sponsoring the school's annual Giving Tree for families in need from Dec. 1 to Dec. 21. The tree is in front of the office with ornaments detailing items that you can donate this holiday season.
Dec. 3
— 10 a.m. to 4 p.m. — Where children learn the true meaning of Christmas. Pictures at the Manger Scene (costumes provided), Birthday Cake, Storytelling, Crafts and more. The whole family is invited to this free event.
Dec. 9 through Dec. 11 
, 7 p.m., St. John's Lutheran Church, 3517 Jeffco Blvd. Admission free, no tickets required.
Dec. 10
, 4 p.m. to 7 p.m., St. Lucas United Church of Christ, 11735 Denny Road, Sunset Hills. Rain date Saturday, Dec. 11. See and pet live manger animals (camel too). Enjoy free refreshments and attendance prizes.
– Kids, here is your chance to not only send your Christmas wish list to Santa, but receive a letter back as well! Along with your wish list, please include a self-addressed, stamped envelope. Santa will reply to all letters that are received between Nov. 25 to Dec. 16. Bring your letter to the Community Center or mail it to: Santa Claus, Care of Crestwood Community Center, 9425 Whitecliff Park Lane, Crestwood, Mo. 63126. 
All letters addressed to Santa in care of the Sunset Hills Department of Parks and Recreation, 3915 S. Lindbergh, Sunset Hills Mo. 63127 and received between 12/1 and 12/16 will be answered.
Dec. 4
Lutheran Church of the Resurrection, 9907 Sappington, 3 p.m. Gloria In Excelsis with the Salem-St. Louis Chamber Orchestra. Free admission; a free-will offering will benefit Feed My People. Please bring non-perishable food items for the Feed My People food pantry.
Dec. 11
, 4 p.m. at the church, Golterman Drive.
Nov. 23 to Jan. 1
. Celebrating 31 years of holiday memory-making.
Nov. 18 to Dec. 31
, Belleville, Ill.
Free admission. Wintertime sparkles at the Shrine of Our Lady of the Snows as the Annual Way of Lights Christmas display illuminates the grounds. Since 1970, the Missionary Oblates of Mary Immaculate have invited one and all to make the Way of Lights a part of their family tradition. This breathtaking display focuses on the birth of Christ, the one true light of the world. For more information, visit
.
Dec. 1 to Jan. 5
, Dec. 1 through Jan. 5.  Email your photo, with name, address and phone number, to hpyne@sunset-hills.com, ATTN: PET PHOTO CONTEST.  Winners announced by January 20th.
Through January: 
Visit the E. Desmond Lee Holiday Train Exhibit, which includes the former Famous-Barr/Macy's display from downtown St. Louis, during regular museum holiday hours. Board "Mrs. Claus's Creation Station" with Mrs. Claus herself. 
Ride the Santa Express and go ice skating at Union Station. For more information, visit 
.
Dec. 2
, 7 p.m., Arnold Recreation Center, 1695 Missouri State Road. Arnold will light its official Christmas tree, donated by Meert Tree Farm. The lighting will be conducted by Mayor Ron Counts, and the St. Mark UCC Carolers will also perform a medley of carols during the ceremony.
, Affton White-Rodgers Community Center, 9801 Mackenzie Road. Join your friends and dance the night away! Admission limited to grades five through seven. 
Call (314) 615-8822 for tickets.
The cost is $5 per student.
Dec. 3
, Queeny Park Greensfelder Recreation Complex, 10 a.m. Candy canes have been hidden in Queeny Park by the park deer for children to find. Hunt begins promptly at 10 a.m. Advance registration is required. Call (314) 615-8472 to purchase tickets. 
For children 2 to 10 years old. $6 per person.
Dec. 8
, 4 to 6 p.m., The Sheridan at Laumeier Park assisted living center, 3802 S. Lindbergh Blvd. RSVP at (314)296-4318 or to schedule a private tour.
, 5 to 8 p.m, Feed My People Thrift Store, 171 Kingston Dr., Lemay. Tickets cost $5 in advance or five or more canned goods at the door.
Dec. 9
, 12 to 2 p.m., Arnold Recreation Center, 1695 Missouri State Road. Co-sponsored by the city and SSM St. Clare Health Center, the delicious lunch will be served and followed by bingo. Pre-registration is required by Dec. 3, so don't delay. $12 includes lunch and bingo.
Dec. 10
hosted by the city of Arnold, Arnold City Park, 9 a.m. 'Tis the season to rock ugly sweaters! There's nothing quite like an invigorating run in an ugly holiday sweater on a cold Saturday morning in December to get the blood boiling and the adrenaline pumping. Call us at (636) 282-2380 or visit the Arnold Rec Center front desk to register. Cost is $20 per participant. Proceeds will benefit BackStoppers, helping the families of those who have made the ultimate sacrifice for our safety, including fallen St. Louis County Oficer Blake Snyder.
Dec. 17
Annual event decorates graves at Jefferson Barracks National Cemetery with holiday wreaths.
, The Pavilion at Lemay, 10 a.m. Join us at The Pavilion at Lemay for a holiday storytelling and crafts with Miss Tracey as she brings the story to life. After the storytelling and crafts, stay for open play in the MAC. To register, call (314) 615-8877. The cost is $5 per child.
Dec. 12
, 10 a.m., Grant's View Library.
Explore the winter season through stories, songs and hands-on experiences.
Ages 3-5. Registration required.
Dec. 31
, 7 p.m. to 1 a.m, 800 Buckley Road. Music by the Scott Laytham & Karl "Trickee" Holmes Duo, $30 a person. BYOB. Email smaevents2017@yahoo.com.
will be closed Friday, Dec. 23, and Monday, Dec. 26, all day for the holiday.
All
locations will be closed on Saturday, Dec. 24, Sunday, Dec. 25 and Monday, Dec. 26 in observance of Christmas. The library will also be closed Sunday, Jan. 1 and Monday, Jan. 2 in observance of New Year's Day.
The
will be closed Dec. 24 and Dec. 25.