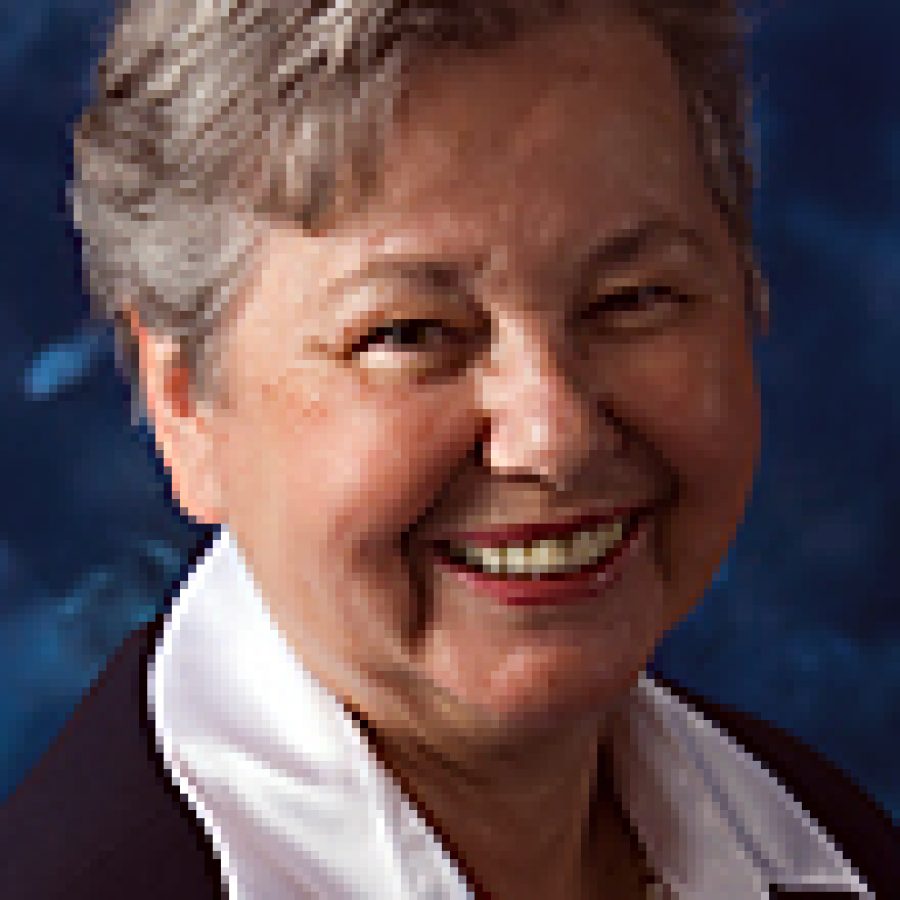 Republican Cloria Brown is challenging Democratic incumbent Vicki Lorenz Englund for the 85th District Missouri House seat in the Nov. 2 election.
Brown, who defeated Albert Faulstich Jr. of Concord in the Republican primary in August, unsuccessfully challenged Englund two years ago for the 85th District seat.
Asked to identify the biggest issue in the race, the candidates responded:
• "Jobs. When there are no jobs, families suffer. The tax-and-spend policies of the past have hurt everyone. Economic growth and development will only be achieved through reduced taxes and tax incentives for business. Businesses need to have dollars to invest in product development, which creates jobs, which in turn creates buying power for the worker and his/her family," Brown said.
• "I will work tirelessly to uphold the values of family and community and to ease the burden on working families and seniors," Englund said.
Brown, 68, 3306 Lone Elm Drive, 63125, is retired from MasterCard International, where she served as vice president of a technology group. She and her husband, Frank, have an adult daughter.
Brown, who has served as Lemay Township Republican committeewoman since 2005, said she is seeking election to the 85th District House seat because "I want to continue to serve my community now that I am retired and have the time available.
"The people of the 85th District need someone to represent them who understands and reflects their values and beliefs. I have lived in the district for over 40 years. I know and understand the problems facing the people of the 85th and will work tirelessly to ensure that these problems are resolved."
Englund, 36, 4539 Valmeyer Drive, 63128, is employed by Cassidy Turley and serves as leasing administrator for Edward Jones. She and her husband, Patrik, have two young children.
Englund, who first was elected to the 85th District seat two years, ago, said she is seeking re-election because "I support the core values of south county — strong schools for our children, good jobs for working families and lower taxes for our seniors."
The candidates gave the following responses to a Call questionnaire:
What is your position on abortion?
Brown said, "I am 100-percent pro-life and the only candidate in the 85th (District) state representative race that is endorsed by Missouri Right to Life."
Englund said, "I am anti-abortion and believe that the best way to reduce abortions is to prevent unintended pregnancies. The best way to do so is through proper, comprehensive sex education. I support current Missouri law, which prohibits abortion after viability."
What is your position on the death penalty?
Brown said, "I am for the death penalty. This law is not likely to be changed. I feel that the system has safeguards through the appeal process, our jury system and, most of all, the latest advancements in technology that aid in investigations."
Englund said, "I am against the death penalty."
Would you support placing a constitutional amendment before voters that, if approved, would repeal the supermajority required for school-district bond issues?
Brown said, "No."
Englund said, "Yes, we need to repeal the supermajority requirement for school-district bond issues. I believe we need to take a look at educational funding mechanisms overall to improve the ways in which our public schools are funded."
Are changes needed to the Public School and Education Employee Retirement Systems of Missouri?
Brown said, "No."
Englund said, "During these most difficult of economic times, we need to be very careful not to harm anyone's pension while at the same time keeping a close eye on our state budget."
Would you support amending the state's Sunshine Law to require public governmental bodies make audio recordings of all closed meetings? Such recordings would not be available to the public or press.
Brown said, "Yes, but there would need to be stringent rules as to how they would be used."
Englund said, "If audio recordings are the most effective way to keep track of how government can be held accountable for the decisions it makes with our taxpayer dollars, I am in favor of it."
What do you propose to solve the state's budget woes? What do you propose to generate additional revenue for the state?
Brown said, "To solve our budget problems we must eliminate unnecessary, wasteful spending and increase jobs."
Englund said, "I believe Missouri can do a better job of streamlining the way it collects the taxes already owed to the state. Missouri needs to do a better job being fiscally responsible with the way our tax dollars are being spent."
Do you agree with the direction the state is moving under Gov. Jay Nixon?
Brown said, "No. Gov. Nixon has not shown the leadership needed. He did not work with the Legislature during the regular session and then called a special legislative session, which costs Missouri taxpayers money that we can't afford to waste."
Englund said, "Gov. Nixon has had to govern during one of the most economically stressed times in Missouri's history. I believe we are benefitting from his leadership and his understanding that more difficult budgetary decisions will have to be made."
Are changes needed to the state law allowing Missouri citizens to carry concealed weapons?
Brown said, "No. There have been no adverse effects from the passage of this law."
Englund said, "Missourians voted to prohibit concealed weapons and I believe the will of the people should be heard."