Bright colors, cool flavors a real hit in Salmon, Blueberry SaladBright colors, cool flavors a real hit in Salmon, Blueberry Salad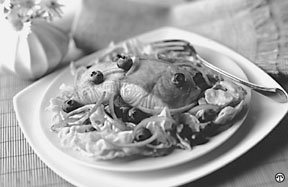 Bright colors and cool flavors come to-gether in this easy main-dish salad.
Salmon and Blueberry Salad with Red Onion Vinaigrette is a palette of colors from juicy blueberries, grilled salmon, bright greens and red onion marinated in ruby red, full-bodied red wine vinegar.
The vinaigrette in this recipe has much less oil than most. The smooth taste of the red wine vinegar gives the salad just the right amount of tang.
Scatter on plenty of blueberries for color and flavor as well as a nutrition boost from health-promoting antioxidants.
Salmon and Blueberry Salad
With Red Onion Vinaigrette
1 medium-sized red onion,
thinly sliced in half rings
¼ cup red wine vinegar
1 teaspoon sugar
1 teaspoon salt, divided
¼ teaspoon ground black pepper, divided
3 tablespoons olive oil, divided
1½ pounds salmon fillet,
cut crosswise in 4 portions
6 cups lettuce leaves
in bite-sized pieces
1 cup fresh blueberries
In a microwaveable cup, combine onion, red wine vinegar, sugar, ½ teaspoon of the salt and 1/8 teaspoon of the pepper; cover loosely with plastic wrap; micro-wave on high power for 1 minute.
Let stand, stirring occasionally, until onions turn pink, about 15 minutes.
Meanwhile, preheat grill or broiler. Brush 1 tablespoon of the olive oil on both sides of the salmon fillets; sprinkle with remaining ½ teaspoon salt and 1/8 teaspoon pepper.
Grill or broil salmon, skin side down, until just cooked through, about 6 minutes.
Divide lettuce leaves among 4 dinner plates; place salmon in the center.
With a slotted spoon, remove onions from vinegar; scatter onions, along with the blueberries, over and around the fish.
Whisk remaining 2 tablespoons of the olive oil into the vinegar mixture; drizzle vinaigrette over salmon.
Yield: 4 portions.