BREAKING: Fribis apparent winner in Sunset Hills mayoral race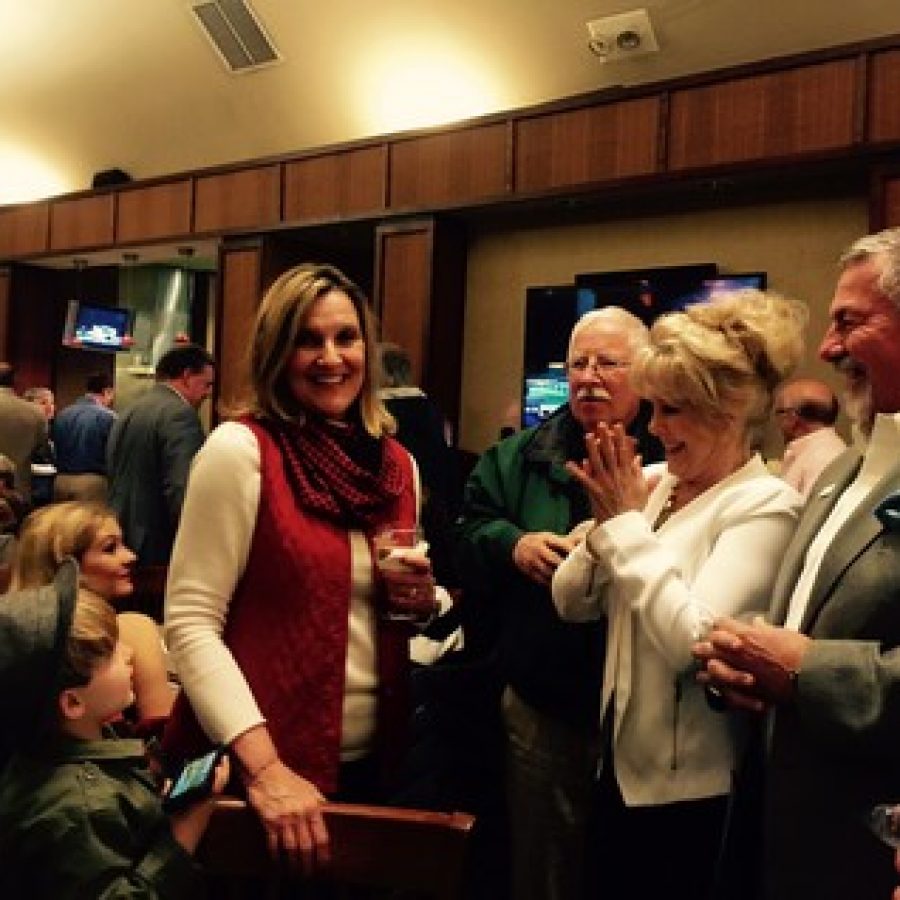 With unofficial final tallies released by the county Board of Election Commissioners, Ward 4 Alderman Pat Fribis is the apparent victor in the Sunset Hills mayoral race.
The unofficial final results for municipal and school board races are:
Two candidates challenged incumbent Bill Boston for the Crestwood Ward 3 aldermanic seat.
Former Alderman Jerry Miguel is the apparent winner over newcomer Spencer Talbott and Boston, who was elected in 2013.
• Boston — 209
• Miguel — 417
• Talbott — 161
Four candidates — Ismaine Ayouaz, Tony Kennedy, former Alderman Steve Nieder and Ryan Pascoe — were seeking the Crestwood Ward 4 aldermanic seat currently held by Cindy Minor.
Minor, who did not file for election, was appointed to the seat last year to replace former Ward 4 Alderman Mike Tsichlis, who won a seat on the Lindbergh Board of Education.
Kennedy is the apparent victor.
• Nieder —166
• Pascoe — 94
• Kennedy — 369
• Ayouaz — 289
Four candidates were seeking to succeed Sunset Hills Mayor Mark Furrer, who did not file for re-election, with Fribis the apparent winner over Larry Chorosevic, Nathan Lipe and Gregory Nelson.
Former Mayor Bill Nolan filed first, but later dropped out of the race due to health reasons.
• Lipe — 304
• Chorosevic — 287
• Nelson —115
• Fribis — 1,301
In Ward 1, former Sunset Hills Alderman Frank Hardy challenged incumbent Rich Gau for his seat.
Gau defeated Hardy in 2012 to win election to the Ward 1 seat. He was re-elected in 2014, defeating former Alderman Douglas McGuire Jr.
Hardy served on the board from 2006 to 2012. He unsuccessfully challenged Ward 1 Alderman Dee Baebler in 2013.
• Gau — 244
• Hardy — 171
In Ward 4, Thompson Price and Stephen Shady vied for the Sunset Hills aldermanic seat currently held by Donna Ernst, who did not file for re-election. She was elected as a write-in candidate in 2014.
• Shady — 162
• Price — 413
Five candidates — Michael Bitzenburg, Jennifer Miller, David Reinhardt, Mike Tsichlis and incumbent Gary Ujka — were vying for two seats on the Lindbergh Board of Education. Miller and Tsichlis are the apparent victors.
Incumbent Kara Horton, who has served on the board since 2010, did not file for re-election.
• Reinhardt — 2,815
• Tsichlis — 2,971
• Ujka — 2,815
• Miller — 3,648
• Bitzenburg — 638
Three candidates — incumbent Larry Felton, incumbent Lori Trakas and newcomer Kevin Schartner — sought two seats on the Mehlville Board of Education. Schartner and Felton are the apparent winners.
• Felton — 6,731
• Schartner — 7,056
• Trakas — 5,455