Bond's home run lifts Lindbergh to first conference title since '94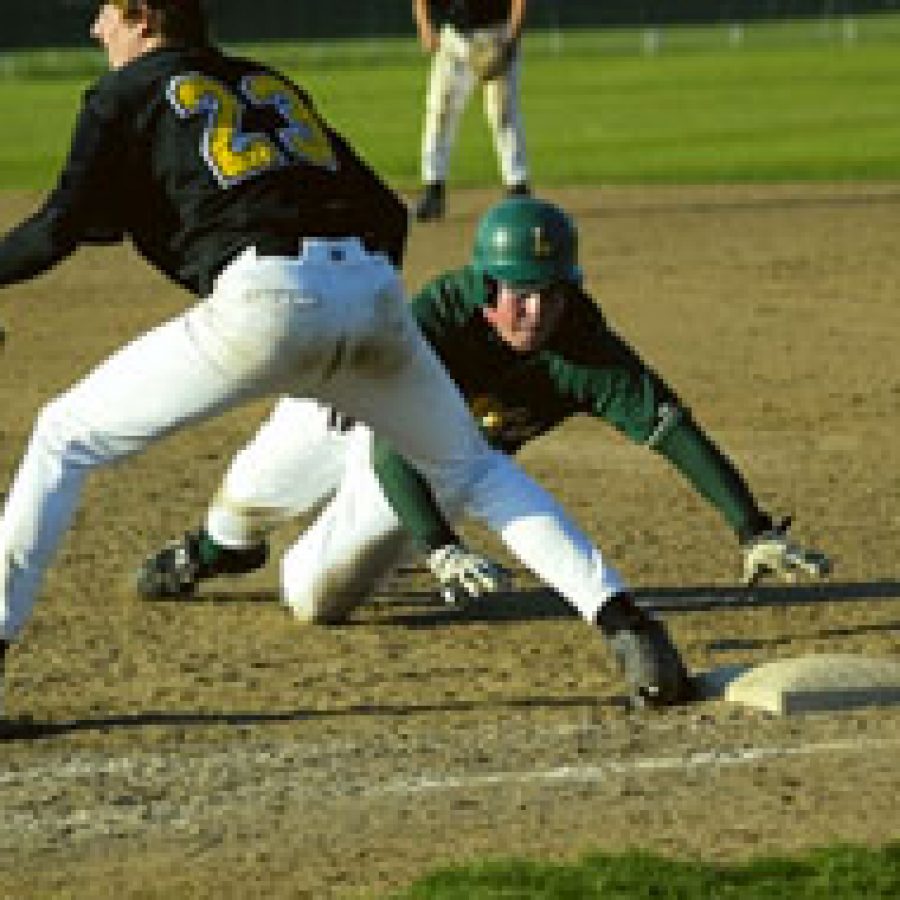 Although members of the Lindbergh High School boys' baseball team are a few years short of being able to break open the champagne to celebrate, they have plenty of reason to give themselves a pat on the back after winning the Suburban West Conference championship.
The conference championship was the first for the Flyers (17-4, 11-2 Suburban West) since 1994 as they defeated visiting Lafayette 13-11 Friday in one of their toughest games of the year.
"I can't say enough about how these kids are coming together and playing good baseball," Lindbergh head coach Darin Scott told the Call. "They're just playing well as a team."
The Flyers found themselves down 4-0 after the top of the first inning as Lindbergh starting pitcher Scott Hicks struggled on the mound.
Hicks yielded nine runs in just three innings pitched as the senior hurler walked one and gave up 10 hits.
"When you go to the bullpen early, you're then battling uphill," Scott said. "We've got a lot of confidence in Scott. He didn't have his best stuff, but he kept battling for us."
Yet the odd statistic of the Lafayette game was the fact that senior second baseman Brock Bond received the win after pitching an inning of relief.
"He's now our closer in the last week and a half," Scott said with a laugh. "He's actually got a great breaking ball and can throw as hard as anyone on the staff."
Senior right fielder Mike Mohrman kept the Flyers in striking distance in the top of the eighth inning as he gunned down a Lafayette base runner at home plate. It was Mohrman's second of the afternoon.
"Right field at our place is extremely difficult to play, but he's a tough and gritty player that battles the sun every day," the Lindbergh coach said. "He ended up gunning two runners out at home in that game."
But it was Bond who stole the show in the bottom of the eighth with one ball in the count and senior shortstop Charlie Schinsky on base.
Bond hit a nearly 400-foot blast to give Lindbergh its seventh straight win of the season.
"It was pandemonium," Scott said. "I haven't seen an atmosphere like that in a high school game ever."
The Flyers are back in action at 4:15 p.m. today — May 13 — as they play host to St. Mary's in a non-conference match.