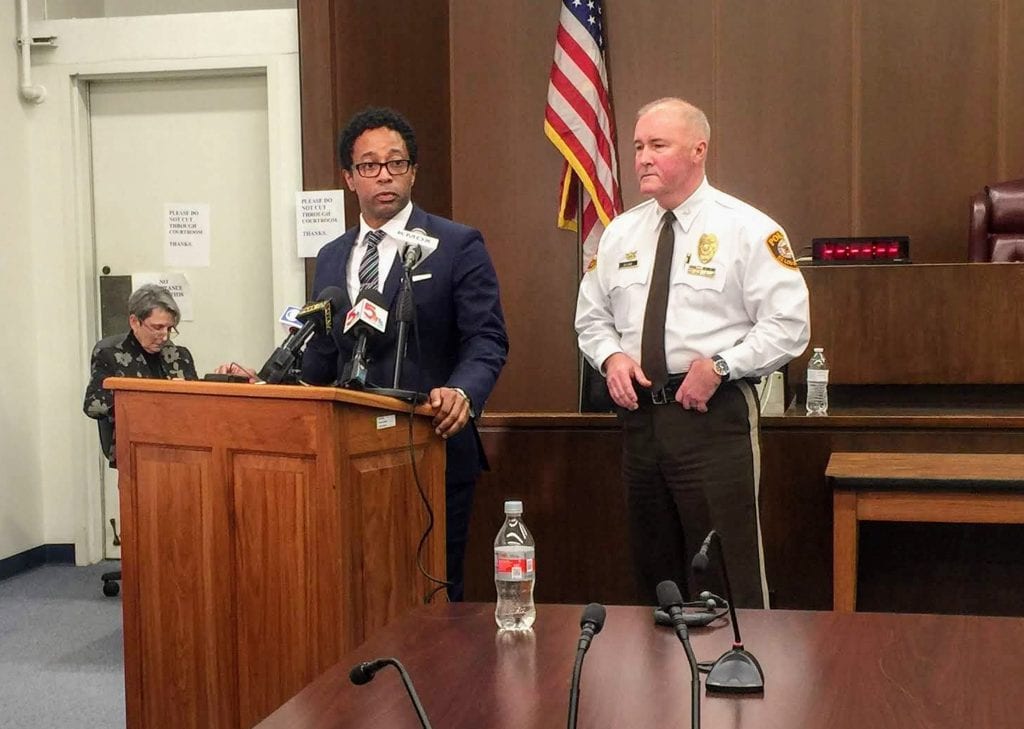 St. Louis County Prosecuting Attorney Wesley Bell, left, and police Chief Jon Belmar speak at a press conference after the February trial of Trenton Forster, who was convicted of first-degree murder for killing Officer Blake Snyder. Photo by Gloria Lloyd.
Reps. Jim Murphy and Michael O'Donnell, both R-Oakville, will hold their second joint town hall meeting this week, this time with two special guests — county Prosecuting Attorney Wesley Bell and county Police Chief Jon Belmar.
The town hall will take place from 3 to 4:30 p.m. Saturday, March 30, at the Cliff Cave Branch St. Louis County Library, 5430 Telegraph Road in Oakville.
Murphy and representatives from around the region met Feb. 22 with Bell to "discuss the concerns of our citizens," Murphy said in a news release.
"An open discussion on the importance of communication, crime prevention, and prosecutorial discretion was had. All agreed that stopping violent crime and the opioid problem need be a priority and that a strong prosecuting attorney is a vital part in this effort. Mr. Bell stated that he is committed to these goals and that many of the news reports have misrepresented his intentions and policies within the prosecutor's office."
After speaking with Belmar while presenting an Officer of the Year award, Murphy invited the police chief to the discussion — the first time Bell and Belmar will jointly speak at an event.