Bayless School District Superintendent Ronald Tucker announced Thursday that he would retire at the end of the 2021-2022 school year after 22 years with the school district.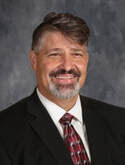 Tucker joined the school district in 2000 and became superintendent in 2012 after working as assistant superintendent from 2010 to 2012. Prior, Tucker was the principal of Bayless Middle School and Bayless High School, as well as assistant principal and athletic director at Bayless High.
"Serving as Bayless' superintendent for the past decade has been the highlight of my professional career," Tucker stated in a press release. "My goal has always been to leave this district a little better than how I found it in 2000. I am happy to say, Bayless will be in good shape and in good hands."
Tucker has worked in public education for 31 years, including with the Affton School District before going to Bayless. He cited more time with his wife Sharon, their four children and their dog Mojo as reasons for his retirement.