Barbecue gurus can add meatless menu to summer repertoire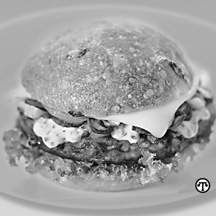 Americans everywhere are breaking out their barbeques, cleaning off their grills and laundering their "kiss the cook" aprons. This season, backyard grilling gurus can complement conventional charbroiled fare with meatless recipes that you don't have to be a vegetarian to love.
One place to start is with delicious and easy-to-prepare Gardenburger veggie burgers. Widely available, Gardenburgers are a guaranteed crowd-pleaser, especially when prepared creatively. Indulge and delight summer guests with these deceptively simple and inspired recipes.
Portabella Bleu Burger
4 Portabella patties
4 rolls, sliced in half
Olive Oil, for grilling
Balsamic vinegar, to taste
1 Portabella mushroom in four slices
(stemmed, gills cut out)
½ cup bleu cheese crumbles
2 bunches of arugula, trimmed
Bleu Cheese Sauce (below)
Lightly brush portabella patties with olive oil and grill according to package directions. Lightly brush mushroom slices with olive oil, sprinkle with balsamic vinegar and grill approximately 2 minutes each side, and remove from grill. Brush rolls with olive oil and grill, cut sides down, about 2 minutes or until golden. Remove from grill and spread with Bleu cheese sauce. Top each bottom half with Gardenburger patties, followed by grilled mushrooms, bleu cheese crumbles, arugula and top half of bun.
Bleu Cheese Sauce
1/2 cup crumbled bleu cheese
2/3 cup low-fat sour cream
1/3 cup low-fat mayonnaise
1 tsp. Worcestershire sauce
¼ tsp. lemon juice
Using fork, mash cheese in bowl. Whisk in sour cream, mayonnaise, Worcestershire sauce and lemon juice. Season with salt and pepper.
Burger with Red Pepper Aioli
4 vegieburger patties
8 slices rustic bread
2 Tbls Olive Oil
Red Pepper Aioli (below)
4 slices Provolone cheese
1 cup spinach leaves
8 Roma tomato slices
Lightly brush bread slices with oil and grill, cut sides down, about 2 minutes or until golden. Remove from grill and spread each piece of bread with Roasted Red Pepper Aioli. Grill Diner Deluxe patties according to package directions. Before removing from grill, add one slice of Provolone to each patty. Place heated patties on grilled bread and top each burger with red onion, tomato and spinach leaves before placing top slice of bread.
Red Pepper Aioli
½ cup chopped roasted red peppers
¼ cup mayonnaise
1 garlic clove, chopped
¼ tsp. red wine vinegar
1/8 tsp cayenne pepper
salt and pepper to taste
Blend all ingredients in blender or food processor until smooth. Get creative when grilling with delicious and nutritious Gardenburgers.