Ballot shortages reported in Sunset Hills, Mehlville
State investigation underway, Stenger outraged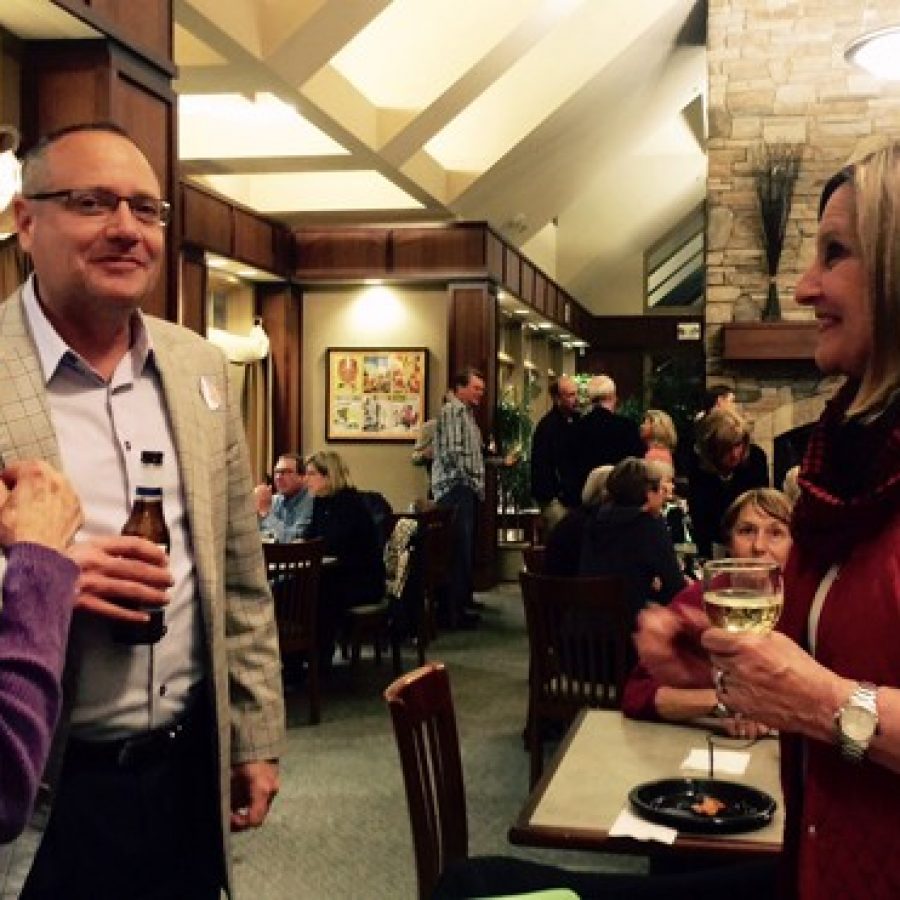 The St. Louis County Board of Election Commissioners is petitioning a judge to extend voting hours and a county councilman is calling for an investigation as election officials are working to fix ballot shortages for at least 20 and possibly more than 60 county precincts, including Sunset Hills, Fenton and Mehlville.
County Executive Steve Stenger pushed for extended voting hours, even into Wednesday, and the election board is appealing County Circuit Court Judge Maura McShane's ruling that voting hours could not be extended.
Affected polling places in south county include three in Sunset Hills and one in Fenton:
• Sunset Hills Community Center — two precincts.
• Truman Middle School.
• Fenton City Hall.
Election officials said this morning they hoped to resolve the issue in a few hours, but in the meantime they are directing voters at the affected precincts to either vote later or vote at the county Board of Election headquarters at 12 Sunnen Drive, Suite 126, in Maplewood. Signs saying "Vote here" point to the office.
All ballots for school board and municipal elections are paper for today's election, since county election officials said they did not have enough turnaround time to get electronic voting machines back in service after the March 15 presidential primary.
The Call received reports that some voters in the Mehlville School District also encountered ballot shortages at the polls this morning. County officials have not confirmed those reports, but reports of the ballot-less voters in Mehlville match other reports streaming in that election workers from precincts throughout the county started the day with only five ballots. The school district and the Mehlville Fire Protection District both have propositions on the ballot today.
Some voters in Mehlville and in Sunset Hills were able to return later in the afternoon and cast their ballots, but some precincts still had a shortage even after the problem was identified.
That outraged Stenger, who distanced himself from the state-appointed election board. Gov. Jay Nixon, who appointed the board members, also issued a statement condemning the irregularities.
"At 7 a.m., I said I was boiling, and it didn't get any better," Stenger told the Call after Tuesday night's County Council meeting.
Stenger threw his support behind Secretary of State Jason Kander, who promised to launch an immediate investigation through the state's Elections Integrity Unit.
The members of the election board are Chairman Richard Kellett, Secretary John Maupin and members John King and Trudi McCollum Foushee, with two election directors representing both the Democrats and the Republicans — Republican Gary Fuhr and Democrat Eric Fey, both of Concord. Fey serves as lead director since he is from the political party of the governor.
Responding to a contention from University City resident Tom Sullivan at the meeting that although Nixon officially makes appointees, Fey is for all intents and purposes a Stenger appointee, Stenger repeatedly told reporters after the meeting, "This is a state-appointed board," emphasizing every syllable.
"I want to see an outcome where every St. Louis County voter who wants to vote is able to vote," Stenger said. "I mean, we're in 2016, and it's ridiculous that we have a lack of paper ballots at polling places, it's ridiculous. I can't stress it enough just how ridiculous it is."
At the meeting, Council Chairman Mike O'Mara, D-Florissant, agreed to a request from 7th District Councilman Mark Harder, R-Ballwin, that a Committee of the Whole meeting be held so that the election board can explain what happened.
"I'm outraged by this. We've got to do something," Harder told the Call. "We've got two major elections coming up in August and November, and we've got to get the act together at the election board. This is unacceptable."
In Sunset Hills, four candidates are running to replace Mayor Mark Furrer, including Ward 4 Alderman Pat Fribis, Nathan Lipe, Gregory Nelson and Larry Chorosevic.
Sunset Hills Ward 1 Alderman Dee Baebler said a ballot shortage during an important mayoral race is unacceptable.
"My phone is ringing off the hook," she told the Call. "People were trying to vote before work and cannot go to Sunnen. Elderly who can't drive, students who have class the rest of the day, people going out of town….all robbed of their vote."
The affected precincts at the Community Center and Truman Middle School heavily impacted voters from Ward 1, which had a competitive aldermanic race between Alderman Richard Gau and former Alderman Frank Hardy.
Residents of Court Drive in Sunset Hills, which is the center of commercialization efforts from a developer, reported being turned away at their precinct at Truman when the precinct only had five ballots and told to either vote in Maplewood or wait at home for a phone call that the precinct got more ballots. One of the most vocal opponents of commercialization of Court Drive, Ann McMunn, is Fribis' campaign treasurer.
Chesterfield also has contentious races that the ballot shortage has the possibility to affect, Harder said.
"I'm getting calls from constituents and others that say they want somebody's head, and I can't blame them," Harder said. "This is ridiculous."
The election board appointed Fey as county election director last year, just after Stenger took office as county executive. Although Stenger denied engineering the ouster of the previous election director, former Sen. Rita Days of north county, Fey formerly served as the legislative aide to Stenger's ally on the County Council, 5th District Councilman Pat Dolan, D-Richmond Heights, while Days was aligned with former County Executive Charlie Dooley.
"It was interesting to hear County Executive Stenger on the radio this afternoon acting as if he has nothing to do with the St. Louis County election board," Sullivan said during public comments at the council meeting. "For all practical purposes, Director of Elections Eric Fey was his appointment. Similarly, the previous director was Charlie Dooley's appointment, though the governor does the actual appointing."
In response, Stenger said, "This is an independent board, it's appointed by the governor, and it has absolutely noting to do with St. Louis County governance whatsoever. This is a state-governed board."
After her dismissal, Days was praised by her allies in the Missouri Legislature for running elections fairly, but she came under fire during her tenure for mismanaging a primary election that had to be held again due to ballot irregularities, giving out inaccurate information to reporters on voter registration in Ferguson and, in November 2014, not providing enough paper ballots to some polling stations.
"I respect her service to the public," Stenger said at the time that Fey took over. "At the same time, there's no secret that there were issues."
At the time he took the position, Fey promised to address the fiascos that had plagued a series of elections under Days.
"They've had some issues recently, and I hope to address those, and I hope to move forward in a positive way," he told the Call. "Frankly, voters expect for there to be enough ballots at their polling place, and the election board needs to do that."