As Crestwood raises chicken limit, alderman's neighbor defends coop
By Emily Klein
Staff Reporter
Crestwood resident Catherine Biermann and her husband, Will, have five chickens.
But avid followers of city government may already know that, since the chickens came up by name as the Board of Aldermen debated this summer whether to expand Crestwood's limit for chickens from five to nine.
During the discussion, one of Biermann's neighbors, Emily Revelle, praised Biermann's chickens and said that her "chicken neighbors" are pleasant to be around and don't bother her at all. Like Biermann, Revelle called them "the girls."
But Ward 1 Alderman Mimi Duncan didn't take as favorable a view of her neighbor Biermann's chickens. Duncan contended that Biermann only started to clean up after her chickens when she was cited by the city and that Duncan had to put a screen up in her adjacent yard so she "wouldn't see that."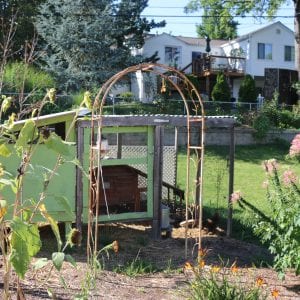 But Biermann has never been cited for her chickens, City Clerk Helen Ingold told the Call.
It wasn't the first time that Duncan has talked about Biermann's chickens in a public forum.
"She's entitled to her own opinion," Biermann said about Duncan's comments. "I don't agree with it, I just have a problem with it being on the public stage."
Biermann also said that she keeps a very tidy yard and garden. She has hosted garden tours as an event for Crestwood's Beautification Committee. She served as the chair of that committee for almost two years.
Biermann said that she doesn't have a problem with Duncan personally, and likes her as a person. However, she felt she had to respond to Duncan's public classification of her chickens and garden.
"We're really not doing anything wrong," Biermann said. "Our girls are happy. They are my babies. I love my girls."
The Biermanns' three oldest chickens — Dot, Jane and Bunny — typically roam around in their outdoor pen while snacking on feed and cucumbers. The youngest chickens, Melon and Flo, are in a smaller pen because they're not ready to be introduced to the older group.
Biermann has been raising chickens for about four years and used to help her parents with their chickens before she moved to her current house in Crestwood.
Her five "girls" are all various breeds of chickens, with different colors and markings.
Bunny and Melon are the same breed, Ameraucana, and lay blue eggs instead of the usual white. Jane is a New Hampshire Red. Dot is a Wyandotte. Flo is a Speckled Sussex.
"I like the different breeds," Biermann said. "I'd like to have more just because of the breeds and not so much of the eggs."
The hens don't lay as many eggs as they used to for various reasons, but Biermann doesn't mind. Jane has laid only a couple of eggs her whole life, and Dot has stopped laying due to her old age. Melon and Flo are still young and aren't laying yet.
"I know that some people, when their chickens get old enough, they get rid of them when they quit laying eggs, but we just love them too much," Biermann said. "If someone told me I'd have to get rid of Jane, we would have a pretty stern conversation about that. They're just our babies."
Biermann spends most weekends working in her garden, and she said that people  frequently stop and compliment her work. The vivid pinks, yellows and oranges stand out against the endless, monotone green of suburban front yards. She said that soon after Duncan said she had to block the view of her house, a man came up and knocked on her door to compliment her on it.
"How can you not love it when somebody you've never met before knocks on your door and says, 'Hey, I just wanted to let you know I really love your garden?'"