Around the Kitchen: Cincinnati Chili recalls memories of home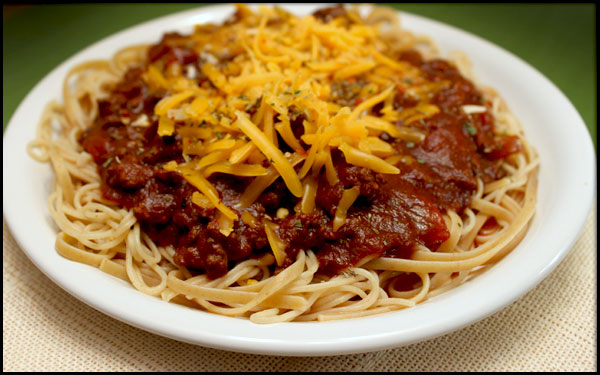 By Bill Milligan
For the Call
My wife grew up in Cincinnati and it's easy to get her thinking about the folks back home — just make a pot of this chili.
I never understood why people in Cincinnati put cinnamon in chili and for years I hated it. But I've learned to cook it because my wife goes nuts for it when I make it.
People in Cincinnati serve the chili in many ways. Spaghetti, cheddar cheese, and finely chopped onions are just a few of the abominations; some even eat them all together. No wonder it took me so long to even like the smell of this stuff.
People there have their own language to order the chili, you order three-way, four-way or five way. I've never understood what they mean, but I think it refers to the three items I mentioned above and a fourth ingredient — red kidney beans.
I strongly suggest you try chili the Cincinnati way before you turn your nose up at it. I've learned the hard way.
Cincinnati Chili
1 tablespoon olive oil
2 onions, diced
2 garlic cloves
2 tablespoons tomato paste
2 tablespoons chili powder
1 tablespoon dried oregano
1 tablespoon cocoa powder
1½ teaspoons ground cinnamon
1 teaspoon salt
¾ teaspoon ground black pepper
¼ teaspoon allspice
¼ teaspoon cayenne pepper
2 cups chicken broth
2 cups tomato sauce
2 tablespoons cider vinegar
1 tablespoon brown sugar
1½ pounds ground beef
Heat olive oil in a Dutch oven over medium-high heat. Saute onions for three to five minutes, until soft and browning.
Add all ingredients up until the chicken broth and cook for one minute. Stir in the rest of the ingredients, making sure the ground beef is nicely broken up.
Bring the mixture to a boil, then reduce heat to a simmer and cook until it starts to thicken, about 15 to 20 minutes.
Season with salt to taste and serve.