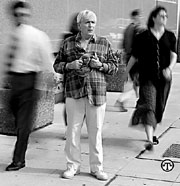 Wandering is one of the most frightening and potentially life-threatening behaviors that may accompany Alzheimer's disease.
As many as 60 percent of people with Alzheimer's wander at some point, often leaving home and unable to find their way back. If a person is not found within the first 24 hours, a nearly 50 percent chance exists he or she will be at risk for serious injury or even death.
"For many families, wandering is often the first warning sign," Kathy O'Brien of the Alzheimer's Association stated in a news release. "No two people experience the disease in the same way, so it's impossible to predict which individuals will wander and get lost. But, if someone wanders once, they likely will wander again."
Individuals who wander are confused and sometimes unable to ask for help, leaving them vulnerable to weather, traffic and those who prey on the less fortunate.
Wandering can be triggered by a number of factors:
• Medication.
• Stress, restlessness, anxiety or agitation.
• Inability to recognize familiar people, places or objects.
• A desire to fulfill former obligations such as going to work or caring for a child.
• The need for food, companionship or communication.
• Fear arising from a misinterpretation of sights and sounds.
The Safe Return Program, created in 1993, is the only nationwide identification program of its kind specifically for people with Alzheimer's. The program now has more than 100,000 registrants and in its first decade has helped return nearly 8,000 people who have wandered.
The Alzheimer's Association encourages people to register in Safe Return as a safety net that may prevent a potentially deadly situation, the release stated.
To learn more about the program, ways to prevent wandering, the warning signs of Alzheimer's disease or steps for getting a diagnosis, contact the Alzheimer's Association at (800) 272-3900. You also can visit www.alz.org/SafeReturn.