Almonds: Key to a happy marriage?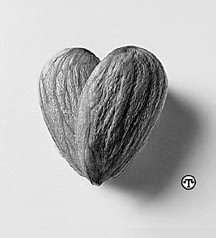 Many people have received Jordan almonds as a wedding favor — but how many know what these sugar-coated treats symbolize?
Almonds have been a part of weddings for many centuries around the world. Be-sides being elegant and versatile, they've come to symbolize several aspects of a happy marriage.
The first literary reference to Jordan almonds comes from Italy in the 1350s.
Traditionally in Italian cultures, wedding guests had often tried to remove a piece of the bride's wedding attire — a flower or bow, say — for good luck.
To discourage this tradition, families started giving five Jordan almonds in a small box or bag as a good luck "favor" instead. The five almonds symbolized five qualities for the marriage: health, wealth, happiness, fertility and longevity.
At traditional Greek weddings, odd-numbers of sugar-coated almonds otherwise known as "koufetta" or "Bom Bom Yara" are given to symbolize how the newlyweds will share everything and remain undivided. Tradition holds that if an unmarried woman puts the almonds under her pillow, she'll dream of her future husband.
Besides being good luck, almonds are a gift of good health — they're high in vitamin E and healthful monounsaturated fat, and can help lower LDL cholesterol. They also pack protein, fiber, calcium and magnesium.
As a gift or just a simple, sweet snack, try this fresh, flavorful take on traditional sugar-coated almonds:
Cinnamon-Glazed Almonds
2 egg whites,
at room temperature
1/8 teaspoon salt
1 cup sugar
3 cups whole natural
California almonds
4 teaspoons cinnamon
1/3 cup butter, melted
Preheat oven to 325°F. Beat egg whites with salt until frothy; gradually add sugar, beating into stiff peaks. Gently fold in al-monds, cinnamon and melted butter.
Pour almond mixture onto a 15½-inch-by-10½-inch jellyroll pan.
Bake about 40 minutes, tossing every 10 minutes, until almonds are crisp. Serve warm or at room temperature. Makes 3 cups.