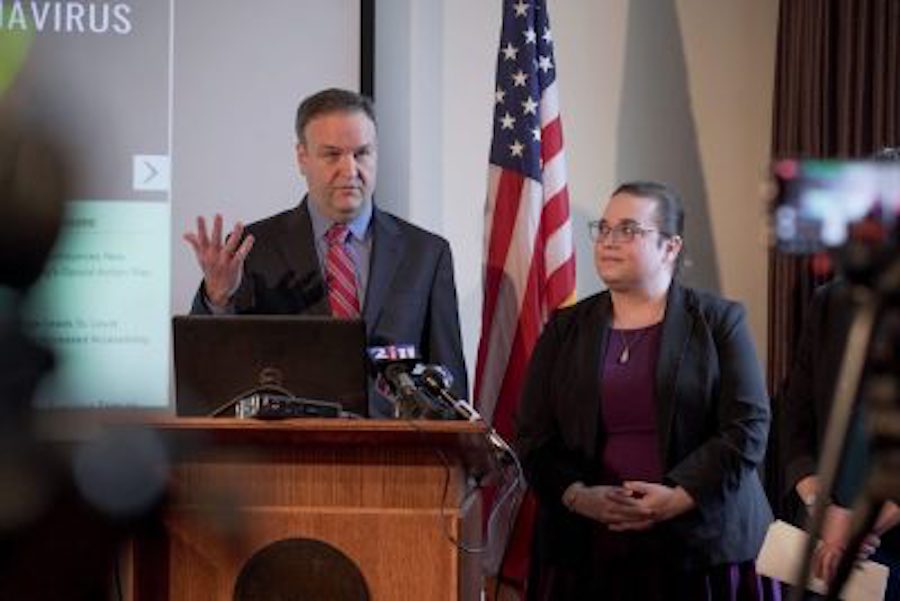 Attempts to stem the spread of the coronavirus in Missouri and nationwide led to the cancellation or postponement last week of most major events, with schools closing for the next two weeks and St. Louis regional leaders banning events of more than 50 people.
St. Louis County election authorities asked a court for the April 7 municipal election to be postponed to April 28 and take place by mail, in an unprecedented wave of "social distancing" that public-health experts say could help hospitals get a handle on treating the virus before they're overwhelmed.
The ban doesn't apply to religious events, but County Executive Sam Page said he hoped that churches would follow the spirit of his March 13 executive order banning groups of more than 250 people to prevent the coronavirus, also known as COVID-19, from spreading. In meetings with regional leaders from the city, St. Charles and Madison and St. Clair counties, the ban was increased to gatherings of 50 or more people.
"This is a strategy that has worked before in history and I believe it's necessary now," said Page, a medical doctor. "We hope that everyone will exercise common sense and goodwill toward our community and stay away from large gatherings."
Page declared in a March 13 executive order: "It is hereby declared unlawful for any person to organize or to attend an intentional gathering of 250 people or more in a single space or room."
At The Call's press time, Missouri had six confirmed cases, including two in St. Louis County, which had the first case in the state after a college student returned from studying abroad in Italy. Two people have the virus in Greene County and one in Henry County.
The county increased testing as the week went on, but Page still indicated there were not yet enough testing kits to meet demand.
Schools have been closed in at least seven states so far, including Illinois through March 30, but so far only St. Louis-area schools are closing rather than the entire state. Mehlville Superintendent Chris Gaines said, "I realize this closure is a hardship for our entire community. Our students don't just rely on school for learning, many look to school for breakfast and lunch, critical relationships with peers and staff, and sometimes even medical support."
The Mehlville High basketball team competed in the state playoffs in a mostly empty arena last weekend, but other sports are now canceled through April 3.
Missouri was one of just five states to continue with its high-school basketball championships last weekend, and the Mehlville Panthers boys basketball team fell in the state quarterfinals to Chaminade. Missouri is set to be the only state that will play high-school basketball this coming weekend.
Colleges including Washington University in St. Louis and St. Louis University moved classes online the rest of the semester, sending students home from dorms.
Most professional sports in the United States were also canceled last week, with the NCAA canceling March Madness games in St. Louis and everywhere else and the NHL halting its season along with Major League Baseball and the NBA.
The XFL called off its season early, ending the inaugural season of the St. Louis Battlehawks football team.
Both major St. Louis St. Patrick's Day parades were canceled.
The Crestwood-Sunset Hills Rotary Club canceled its annual craft fair at Lindbergh High School set for late March.
Call Newspapers and the Mehlville School District postponed the South County Community Job Fair to April 29 from its original date of March 25.
Major attractions in St. Louis are closing for the foreseeable future. The St. Louis Zoo closed Monday through at least April 3. The St. Louis Science Center closed Saturday through at least March 31. The Missouri History Museum, Soldiers Memorial Military Museum and the Library & Research Center are closing at 5 p.m. March 16 through May 9.
Illinois Gov. J.B. Pritzker ordered all Illinois restaurants to close for two weeks for dine-in business, but as of Monday, Missouri has yet to make a similar move.