After 35 years on local baseball scene, Johnny Mac GM hanging up his spikes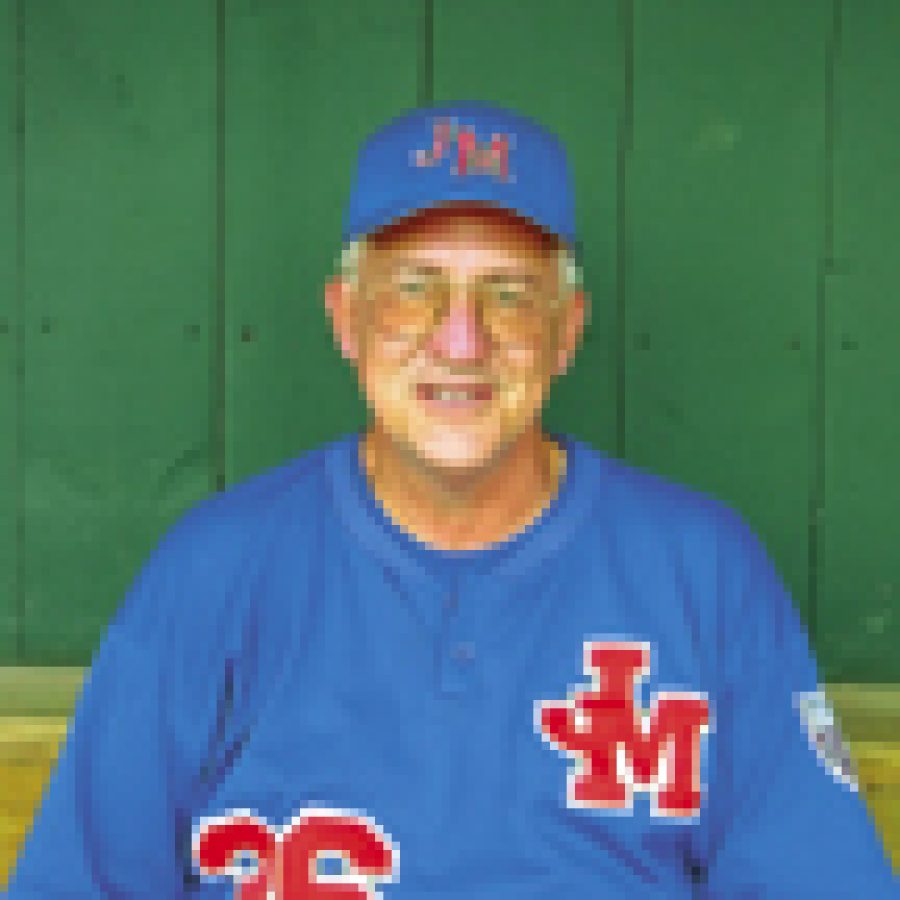 As the sun gracefully set Sunday even-ing, so too did the coaching career of Johnny Mac President and General Manager Jim Muskopf.
Muskopf concluded the final chapter on Sunday to one of the most storied careers in St. Louis amateur baseball.
For the past 35 years, Muskopf been in-volved in the local baseball scene from watching the Cardinals and Browns as a young boy to coaching the Johnny Mac baseball teams and being one of the founders of the St. Louis Amateur Base-ball Association.
"I started playing for a local Khoury League ball club when I was 8," Muskopf told the Call. "My parents were also big baseball nuts, so that was my start."
Muskopf was a tennis and soccer varsity letterman at Roosevelt Senior High School in south St. Louis and also played baseball during the summer for local ball clubs.
He graduated from Harris-Stowe Teachers College in 1966, with a bachelor's degree in elementary education and began teaching for the Mehlville School District in 1967. Muskopf took time off from teaching to obtain a master's degree in education administration from Michigan State in 1970.
He earned this doctorate degree from St. Louis University in 1996, the same year he retired from the Mehlville School District where he had been an assistant superintendent with Mehlville since 1989.
Muskopf currently works for Fontbonne University as interim director of graduate studies.
He began his coaching career in 1970 as the general manager and assistant coach of the then-Fenton Post 400 American Legion baseball team. It was then that Muskopf began designing the formula that he still uses today to get his players the most exposure to college coaches and professional scouts.
"I knew that I wanted to expand the program," Muskopf explained. "We were one of the first programs in 1973 to travel. I felt that St. Louis was not exposed enough to college coaches and professional scouts. So our first trip in 1973 was to Memphis, who had won the 1972 (American Legion) World Series."
One drawback to playing American Legion baseball in Missouri was that the teams could not be affiliated with any other national baseball organizations for postseason play.
This was the No. 1 reason why Muskopf, along with several other coaches in the area decided to form the St. Louis Amateur Baseball Association, better known as SLABA.
"In Missouri Legion, you couldn't double or triple affiliate (with other baseball organizations)," Muskopf said. "Only one team moves on from District 10 in Amer-ican Legion. All of the SLABA teams have multiple affiliations and 11 of them this season played in some form of a postseason tournament."
Ultimately though, Muskopf's main goal for each player in the Johnny Mac program is to obtain as much exposure as possible to collegiate coaches and professional scouts. He also believes that besides sharpening their skills on the field, players in the Johnny Mac system develop important skills for life beyond baseball.
"I could not tell you how many wins and losses I have because it's not about that," Muskopf said. "It's about getting Oakville and Mehlville kids the most exposure as possible. We were exposed to more college coaches in Omaha (Neb.), Fort Wayne (Ind.) and Louisville (Ky.) than we were in St. Louis."
Another service that he provides to his players is the Johnny Mac Scholar Athlete Profile, which is sent to as many collegiate baseball programs as the player desires.
"You can talk to just about any college coach and they'll know about the Johnny Mac Scholar Athlete Profile," Muskopf said. "Any sophomore, junior or senior that doesn't have a place to go can come to me, and we'll sit down and put out a profile on them."
But there is much more to Jim Muskopf than just his accomplishments as an educator and coach.
He and his wife, Ruth, have been married 35 years and have one son, Chris, who teaches math at Mary Institute Country Day School and also is a coach. Muskopf also has two grandchildren — Tristan and Ellie.
The ability to spend more time with his family and his grandchildren are one of the main reasons as to why Muskopf has de-cided to retire from baseball.
"I've enjoyed working with other people's kids, but I think that there's a time when that ends," Muskopf said. "One reason for retiring is to spend time with the grandkids. I don't ever want to say that I can't be with my grandkids because I've got a ball game to go to."