Affton students to present 'RAGS'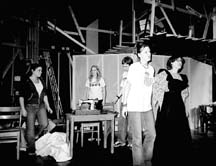 The Affton Theater Arts Department will present "RAGS" at 8:15 p.m.Friday, April 11, and Saturday, April 12, in the Affton High School auditorium, 8309 Mackenzie Road.
"RAGS" takes the audience on a journey through the life of new immigrants trying to create new lives in the United States. Mostly from Russia and having Jewish background, many of the immigrants attempt to turn their lives around by becoming more "Americanized."
The set construction and scenic design crews worked together to perfect the set that will include an abstract tenement. Special effects will include a fire, courtesy of the lighting crew.
The production showcases actors Sue Kenny as Rebecca Hershkowitz, Wendi Nevels as Bella Cohen, Adam Stefo as Avram Cohen, Terry Madlinger as Nathan Hershkowitz, David Zahn as David Hersh-kowitz, Kevin Macdonald as Saul; Joleen Davis as Rachel, Ryan Williams as Mor-ris, Virginia Jones as Rosa; Emma Brazell as Ophelia, Greg Mueller as "Big" Tim Sullivan, Trevor Kettlekamp as Mr. Bron-stein and Deborah Gallagher as Mrs. Sulli-van.
"The chorus is working hard to perfect its unique motions," Jones stated in a news release.
Producing "RAGS" is Judith Rethwisch with directors Ashley Lipham and Maria Quinlan, assisted by Terry Madlinger and Dan Vogt.
Brad Hanewinkel is head of costumes, Brandon Wintergalen is head of lights, Joe Ickes is head of props, John Chau is head set design, Jessica Arnoff is head of makeup, Jenny Rosa and Jilllian Rainey are in charge of publicity, Frank Gause is head of sound and Marcy Austin is head of scenic design.
Tickets cost $7. For reserved seating or additional information, call 638-6330.