50 alumni suit up for water polo match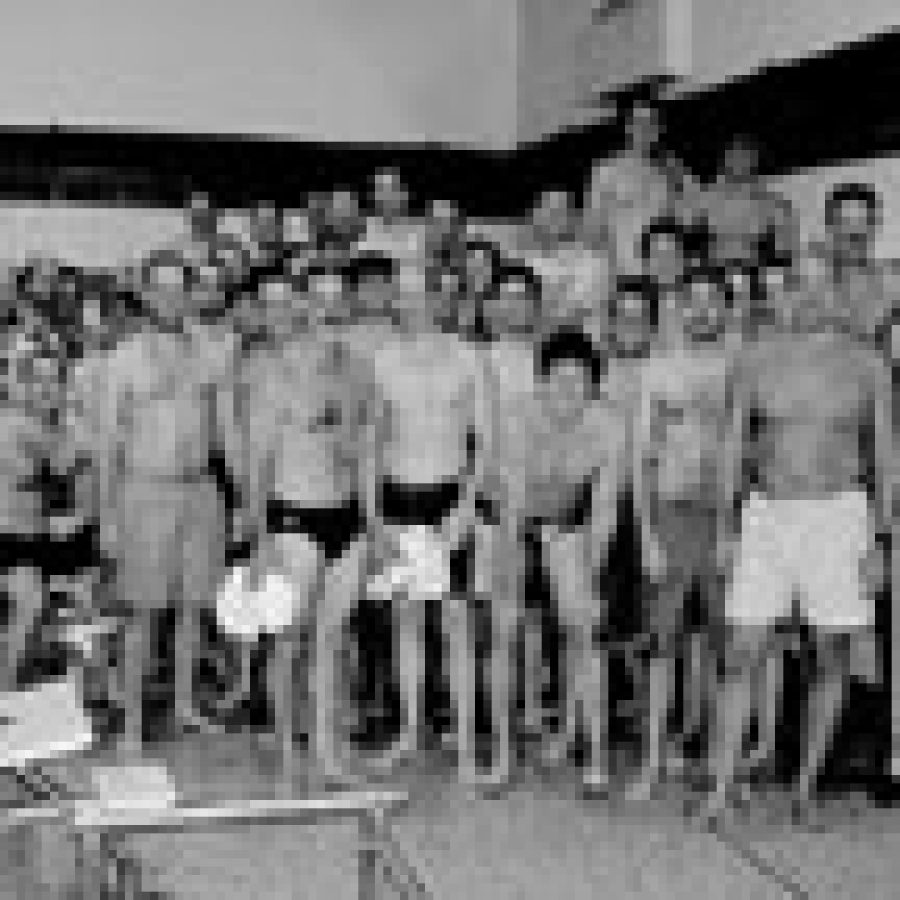 Once a Flyer, always a Flyer.
That statement was never more true than on Oct. 1 when Lindbergh High water polo alumni came out in full force for the third annual alumni match. This year's event drew more than 50 members of the green and gold from seasons past.
Yet the event would not have been made possible, had it not been for Flyers Head Coach Tim Lombardo and Terry Schloss.
Schloss' son Greg is a senior and plays at the driver's position for Lindbergh.
"Coach Lombardo asked if I was interested in doing something like that and I said sure," Terry Schloss said. "So I went through old yearbooks and the Lindbergh alumni book."
The process of finding Flyers from the past was not an easy task for Schloss by any means. Yet the fruits of her hard work were apparent with this year's strong turnout.
"I started by calling people that I knew were Lindbergh alumni and they gave me names, so I kept building from that," she explained. "I found old coaches this time that were coaching 30 or 40 years ago and they're here tonight. We have 53 to 54 players and coaches here tonight."
After the alumni game, the team conducted a reception for the former players, who traded stories about the past and caught up with each other on the present.
One of the coaches present at the game was Ronnie Allen, who coached the water polo team from 1976 to 1980. Allen taught for 30 years in the Lindbergh School District as a health and physical education instructor at Lindbergh High. He also taught history at the middle school level. Besides water polo, Allen coached football and wrestling in his 32 years of coaching.
"They kept us pretty busy in those days," Allen recalled. "We didn't have that many teachers around then."
The former coach was delighted to see some of his players from the past and also enjoyed watching the current high school squad. One thing that Allen was quick to note was the evolution of the game and how fast it is nowadays.
"It's a different game now than when I was coaching," Allen said. "But this is just fun. I'm seeing a lot of people that I haven't seen in years …"
Another former coach present for the game was Rich Forth, who coached the Flyers from 1980 to 1989. Forth spent four years as the junior varsity coach and then spent the final six years at the helm of the varsity squad.
In fact, Forth was the head coach of the 1985 varsity squad that won the state championship. Before retiring this past year, Forth was again the junior varsity head coach for three seasons.
In recent years, water polo has grown by leaps and bounds with more schools sponsoring the sport and several year-round club teams being formed. But Forth remembered a time in the late 1980s when the water polo community worried about the sport being phased out at the high school level.
"At one time, water polo looked like it was going down back in the late 1980s'" Forth said. "People were worried about water polo collapsing, but there's been a regrowth and more schools are now participating."
One Lindbergh alumnus who not only played for the Flyers from 1972 to 1976 but also served as a coach for the 1980 season was Scott Sease. The former player and coach also was a captain for the alumni match and was glad to see some familiar faces from the past.
"It's pretty neat to see," Sease said regarding the turnout of the alumni game.
"Water polo's a pretty small sport numbers-wise, but it's a tight community. I've traveled all across the country playing water polo and you can always find somebody who knows somebody."
The Lindbergh varsity water polo team's next match will be at 4 p.m. Friday when the Flyers travel to Marquette for a Su-burban West Conference showdown with the Mustangs.